Prep Time
:
10 minutes
|
Cook Time
:
30 minutes
|
Total Time
:
40 minutes
|
Yield
:
8 Servings
|
Servings
:
1 Cone
It's rare to find homemade ice cream cones, and summer is the perfect time to try this recipe! The natural nutty and buttery flavor of our Orange Corn pairs perfectly with the sweetness of ice cream.
2 egg whites

 

½ cup sugar

 

2 tbsp milk

 

½ tsp vanilla

 

Pinch of salt

 

½ cup (+2 tbsp if needed) Professor Torbert's Orange Corn Flour

 

1 tbsp melted, unsalted butter, room temp

 

Milk chocolate (optional)

 

Sprinkles (optional)

 

Chopped nuts (optional)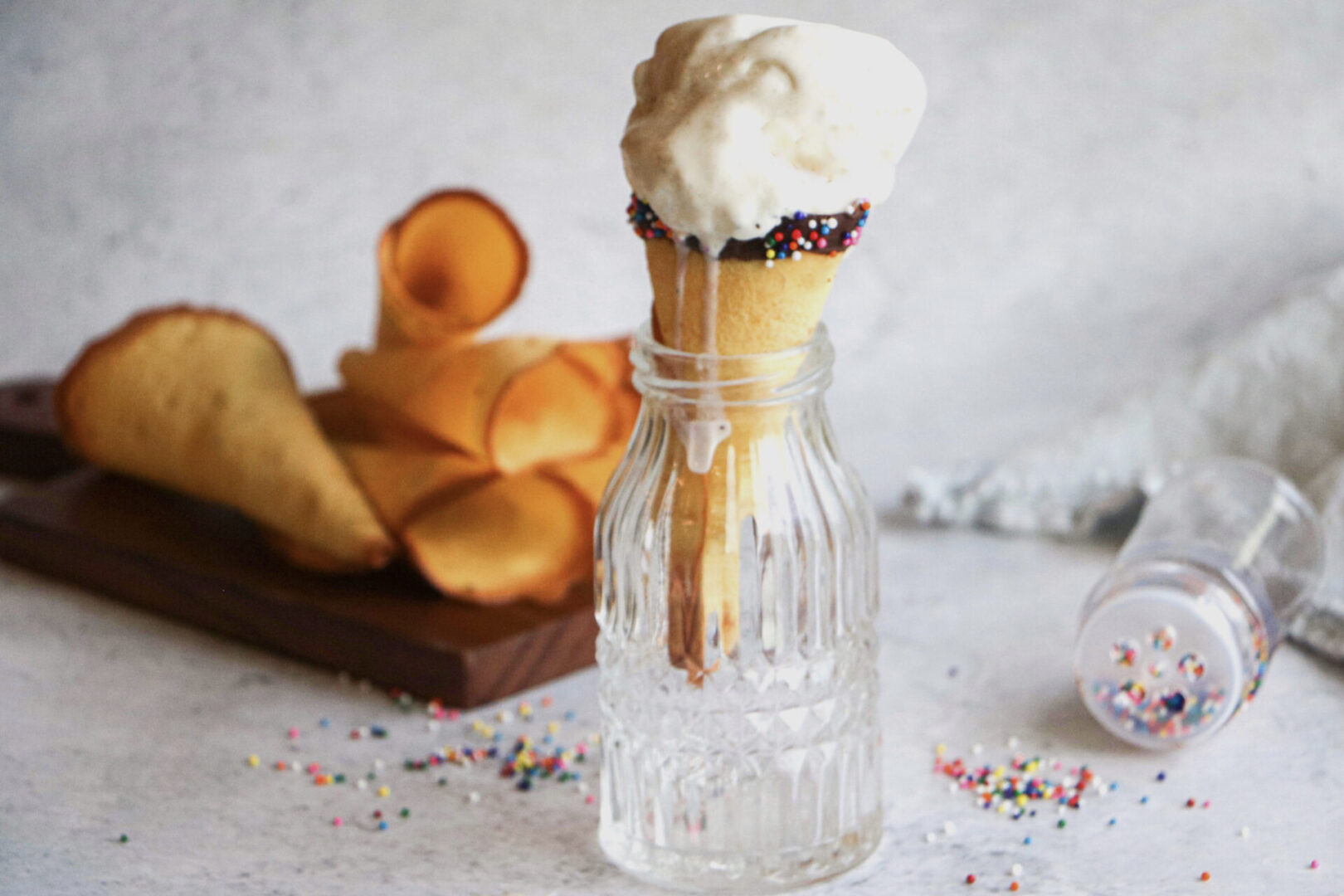 Preheat oven to 350 degrees. Cover a baking sheet with non-stick aluminum foil, and place it in the oven to preheat.

 

In a mixing bowl, combine egg, sugar, milk, vanilla and salt. Mix until well combined.

 

Add the flour, and mix until well combined; repeat with the butter.

 

You will need a cone-shaped object to fold the cones around. This can easily be done by crumpling aluminum foil into a cone, or you can purchase an ice-cream cone mold. It may be easier for you to make two aluminum foil molds, as each batch will make two cones.

 

Ladle a little less than ¼ cup of batter onto the preheated baking sheet and spread into a thin circle, about 5-6 inches in diameter. One baking sheet will fit two of these circles.

 

Bake for about 8 minutes, or until the edges become dark brown. This step varies a lot based on your oven, so keep an eye on them!

 

Once the cones are out of the oven, you need to work quickly, as they are only malleable when hot. With a spatula, gently scrape under the circles to loosen them from the aluminum foil. Then, with your cone mold, roll the circle into a cone. 

 

Place the cones and molds in the fridge, until the cones harden, about two minutes. While waiting for them to harden completely, start baking another batch of cones.

 

If the cones are sticking to the aluminum foil, you may need to bake them longer, or add more flour to the batter. The cones should come off relatively easily without breaking with a spatula. 

 

These are best when eaten right away. They can be served with ice-cream as-is, or decorated with melted chocolate and sprinkles or chopped nuts!