|
Total Time
:
45 minutes
|
Yield
:
4 Servings
Gnocchi is a delicious way to use corn flour! With a lovely balance of creamy and savory, this Chicken and Gnocchi Soup is full of flavor and sure to satisfy. Gnocchi dough can be prepared ahead of time and stored in the fridge overnight in an air-tight container, or cooked immediately.

Gnocchi:
4 medium potatoes (~150g each)

 

1 cup Professor Torbert's Orange Corn Flour

 

¼ cup All Purpose Flour 

 

½ tsp salt

 

Black pepper and cayenne pepper to taste, and more salt if necessary

 
Soup: 
2 tbsp olive oil

 

½ onion, diced

 

1 carrot, diced

 

2 grilled chicken breasts, well-seasoned with salt and pepper, cut into small pieces 

 

1 garlic clove, minced 

 

1 tbsp tomato paste

 

4 cups chicken broth 

 

Cooked gnocchi

 

¼ cup heavy cream 

 

1 tbsp freshly chopped oregano

 

Black pepper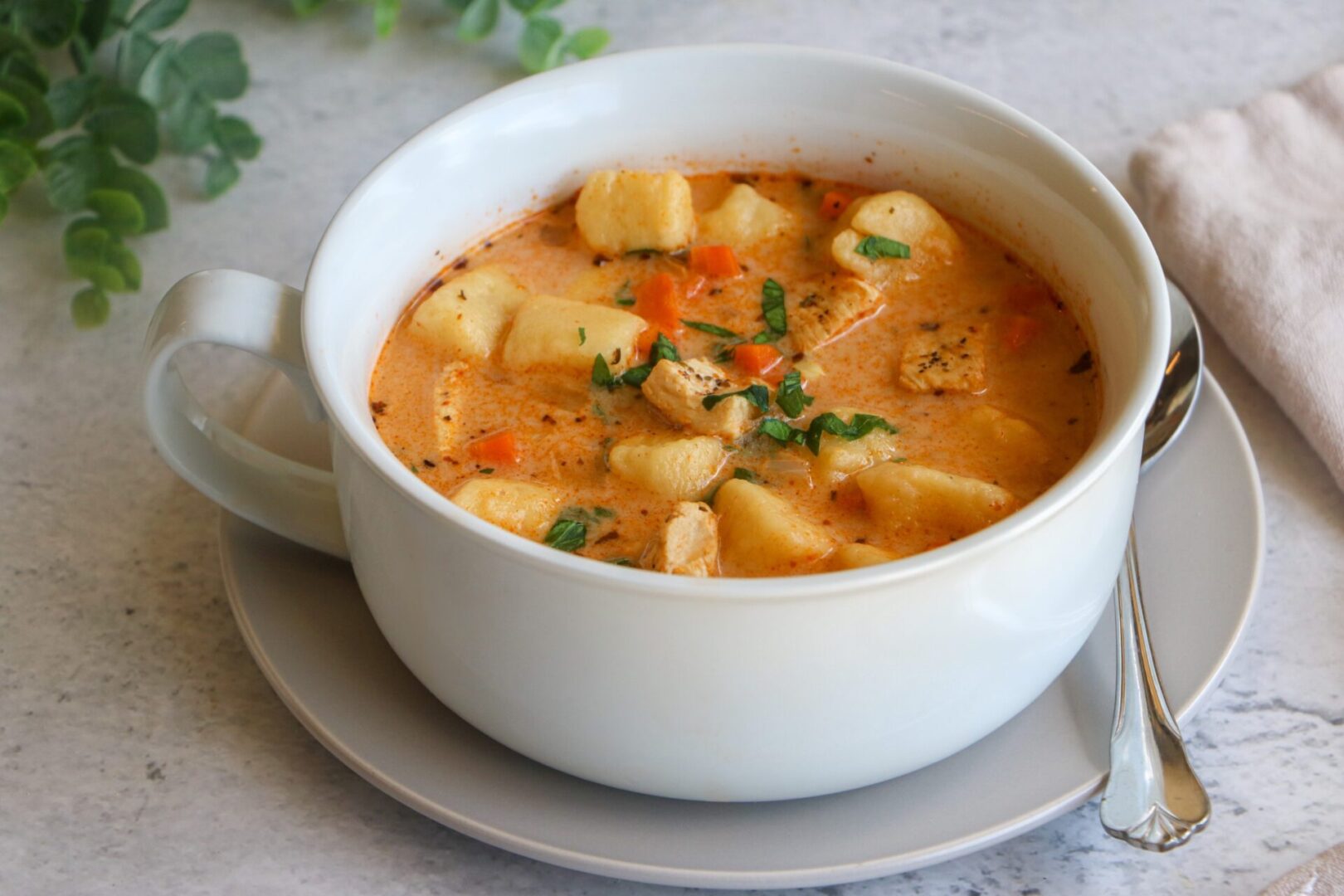 Gnocchi Dough:
Peel and cut the potatoes into medium sized chunks. Steam until tender, using a fork to test.

 

Once cool, mash the potatoes in a mixing bowl until very smooth (The smoother the better).

 

Add corn flour and all-purpose flour to the potato. With your hands, mix until the potato and flours is homogeneous; form the dough into a ball. If the dough is too wet or too dry, adjust by adding small amounts of water or small amounts of corn flour.

 

Add salt, black pepper, and cayenne pepper to taste. 

 

Form the dough into gnocchi by pinching a small amount off with your fingers, and rolling the dough into a ball between your palms. The gnocchi should be slightly smaller than a grape. 

 

In salted, boiling water, cook the gnocchi for about 5 minutes. This can be done in batches. After 5 minutes, the gnocchi should float. If you notice the gnocchi flaking while they are cooking (if the water gets cloudy), the gnocchi dough needs more all-purpose flour.

 

Remove from the water and set aside.

 
Soup:
In a large pot, heat up olive oil, and sauté onion and carrots on medium high heat for about 2 minutes.

 

Add minced garlic and grilled chicken breast pieces; cook for 2 more minutes.

 

Add tomato paste and cook for 1 minute.

 

Pour in chicken broth and add the pre-cooked gnocchi. Allow to simmer until the carrots have softened, about 20 minutes.

 

Add cream and chopped oregano, stir. 

 

Season to taste with salt and black pepper.