Prep Time
:
20 minutes
|
Cook Time
:
40 minutes
|
Total Time
:
1 hour
|
Yield
:
6 servings
Italian Bolognese with Creamy Polenta
Italian Bolognese is an incredibly rich meat sauce with a chicken stock base. This sauce pairs especially well with creamy polenta and our medium-grind grits work perfectly!
Olive oil 

 

1lb ground beef or turkey

 

½ small onion, diced

 

1 clove of garlic, minced

 

1-2 tbsp tomato paste

 

1 celery stalk, chopped

 

1 carrot, chopped

 

2 cups chicken stock 

 

¼ cup red wine 

 

2 tbsp oregano, rosemary, or basil

 

Salt

 

Black pepper

 
Creamy Polenta:
1 cup Professor Torbert's Orange Corn Grits

 

4 cups chicken broth 

 

¼ cup heavy cream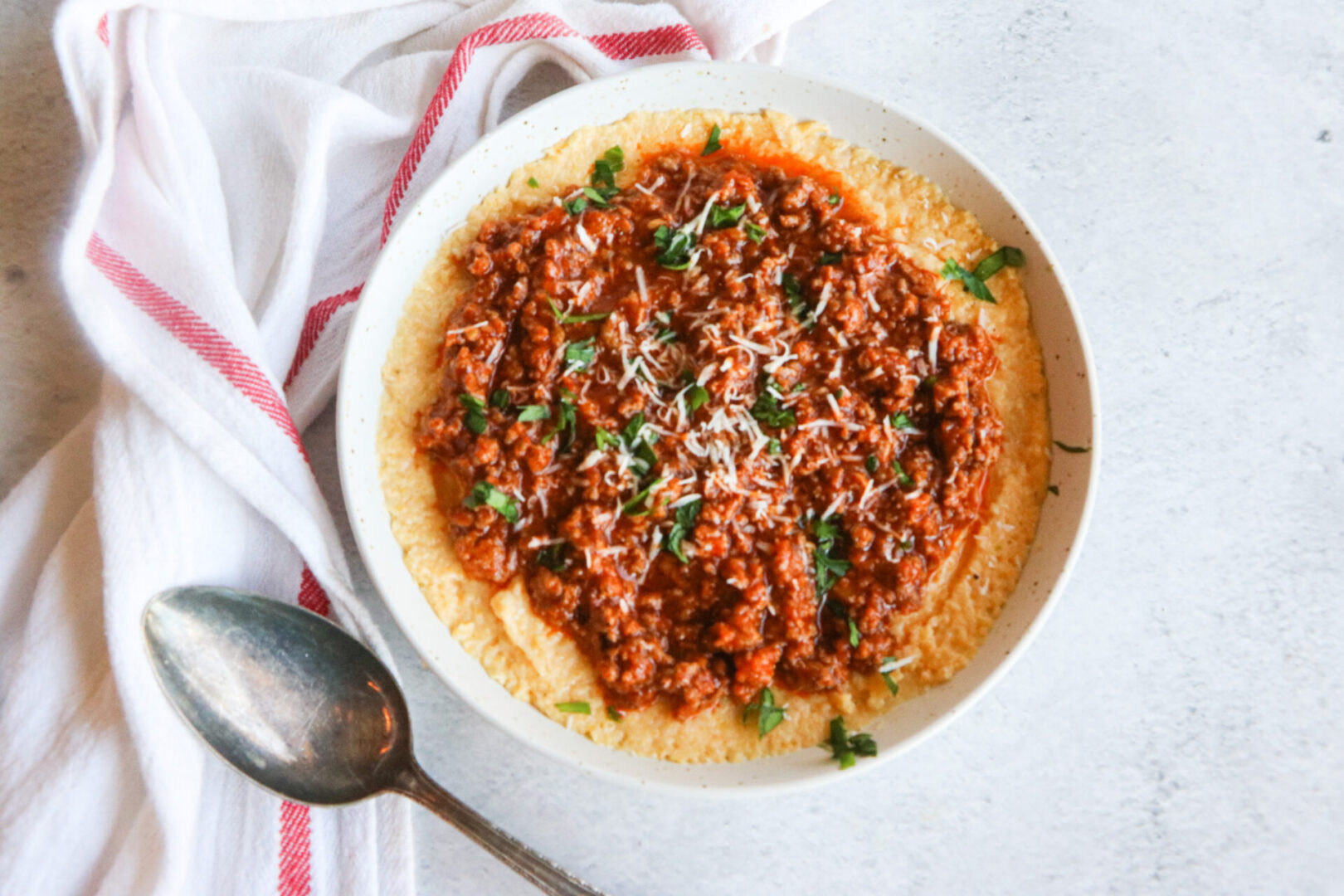 Coat the bottom of a medium sized pot in oil and cook the ground beef until done. Drain the meat, move to a bowl and set aside.

 

In the same pot, heat up more olive oil and sauté the onion on medium heat. Once it becomes glassy, add the garlic and tomato paste and cook for about a minute. Add the celery and carrots and continue to sauté for another two minutes, making sure nothing begins to burn.

 

Pour in chicken stock and wine, and add the ground beef back to the pot. Bring to a boil.

 

Add salt and pepper to taste, but do not over-salt, as the sauce still needs to reduce. 

 

Put a lid on the pot and allow the sauce to simmer for about 40 minutes.

 

While the sauce is simmering, bring 4 cups chicken broth to a boil in a medium sized pot. Slowly pour the grits into the broth while continuously whisking. Lower the heat to medium and keep stirring for about a minute. Stirring occasionally, keep cooking for 15-20 minutes.

 

Add the heavy cream, and stir until well combined. 

 

Serve the Bolognese sauce over the creamy polenta.