Prep Time
:
15 minutes
|
Cook Time
:
10 minutes
|
Total Time
:
25 minutes
|
Yield
:
10-12 crepes
|
Servings
:
1 crepe
Our Corn Flour Crepes are gluten-free and easy to make! This recipe is perfect for dessert or a sweet breakfast or brunch.
For the  Crepes:
2 cups strawberries, sliced
1 tablespoon sugar
1 cup Professor Torbert's Orange Corn Flour
¼ cup sugar
Pinch of salt
1 cup milk
3 eggs
2 tablespoons vegetable oil
1 teaspoon vanilla
Butter or cooking spray
For the Whipped Cream:
½ cup heavy whipping cream
1 to 2 tablespoons powdered sugar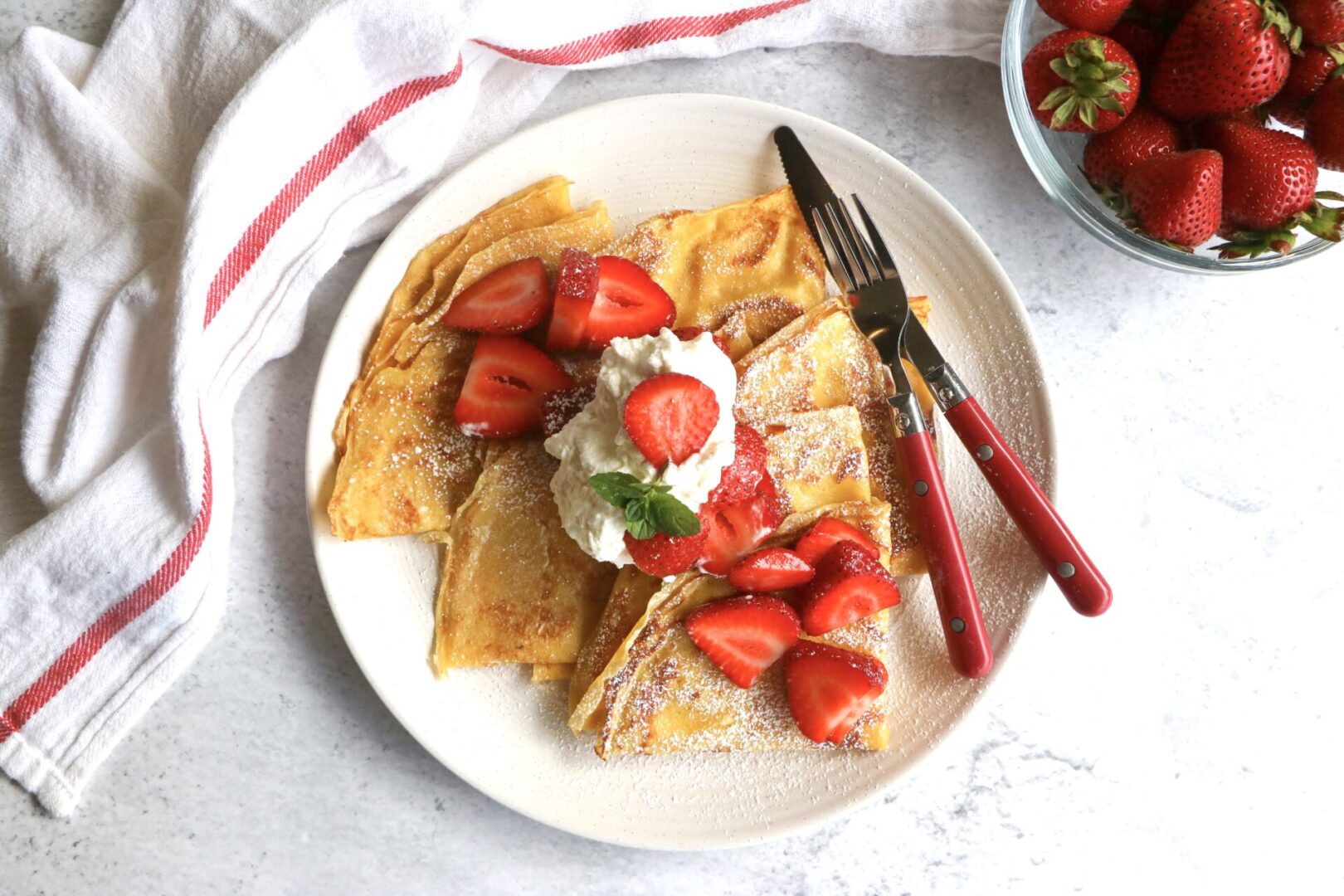 Prepare the strawberries: In a bowl, place the strawberries and sprinkle with 1 tablespoon of sugar. Cover and chill in the refrigerator.
Make the whipped cream: In a mixer bowl, add the heavy cream and 1 tablespoon of powdered sugar, whip until stiff peaks are just about to form. It will happen fast! Do not over beat or the cream will become lumpy and like butter. Taste the whipped cream and add more sugar to reach desired sweetness. Cover and chill in the refrigerator.
Make the crepes: Whisk together the flour, sugar and salt. Add the milk, eggs, oil and vanilla. Whisk vigorously until the batter is completely smooth without any lumps. Set aside.
Set a 9" skillet on medium low heat and heat it up for about 3 minutes. Grease the skillet with butter or cooking spray and using a measuring cup pour ¼ cup of the batter into the center of the pan. Immediately remove the pan from the heat and tilt the pan to allow the batter to fill the entre bottom of the pan. Return the pan to the heat and cook for 30 to 60 seconds until the top sets.
Use a spatula to gently flip the crepe and cook for another 30 seconds. transfer the crepes to a plate and cover to keep warm. Repeat with the rest of the batter. Stir the batter a few times while making the crepes to keep the flour from sinking to the bottom of the bowl.
Serve the crepes warm with fresh strawberries and homemade whipped cream.