Prep Time
:
30 minutes
|
Cook Time
:
10 minutes
|
Total Time
:
40 minutes
|
Yield
:
7 cakes
|
Servings
:
1 cake
Awiesu is a classic dessert made in Ghana and other parts of West Africa. Professor Torbert's Orange Corn Flour adds a rich, buttery flavor, and gives the fluffy inside a beautiful golden color.  
2 cups Professor 

Torbert's

 Orange Corn Flour 

 

½ cup – ¾ cup sugar

 

1 cup water

 

¼ tsp salt

 

½ tsp nutmeg

 

Vegetable or sunflower oil for frying

 

Shelled, salted peanuts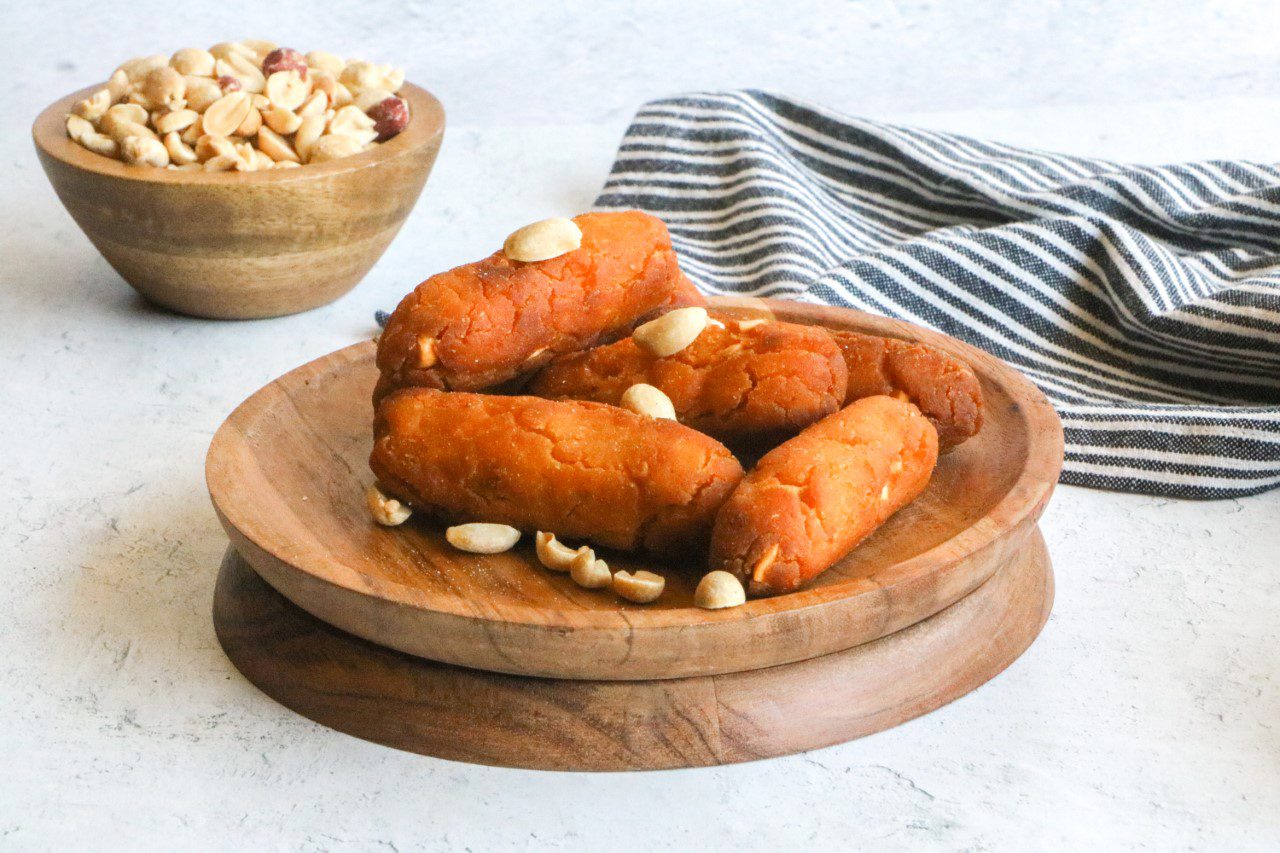 In a small saucepan on medium heat, combine 1 cup of the corn flour, sugar, and water, mixing well with a rubber spatula. Continue to cook and stir until the mixture pulls away from the sides of the pan and is very thick (~20 minutes). Remove the pan from the heat and let the mixture cool.

 

In a small mixing bowl, whisk together the remaining corn flour, salt, and nutmeg.

 

Once the cooked mixture is cool, combine with the dry ingredients in a medium mixing bowl, and knead with your hands. Continue to mix until homogeneous. Your mixture should be easily moldable and not too sticky. You may need to add more corn flour if it is too wet.

 

You can form whatever shape you would like, but the traditional shape is oblong, about 2-3 inches long and 1-1 ½ inches thick. It is easiest if you roll a piece of dough 

into a 

round

 ball between your palms, and then roll it out slightly into the oblong shape. This keeps them smooth.

 

In a skillet or pot, cover the bottom with about 1 inch of oil and heat on medium high. When the oil is hot enough, use one of the 

Awiesu

 as a tester. Once in the oil, it should immediately start bubbling. It should take between 3 and 5 minutes to turn golden brown. If it is too hot, it will burn, and if it is not hot enough, the outside of the 

Awiesu

 will become thick and hard to bite into, and the inside will be soggy. Once the oil is the right temperature, cook about 6 at a time. Note that they should be moved around frequently, especially right after being put into the oil, as they may stick to the bottom of the pot.

 

Drain on a paper towel and serve.