Prep Time
:
15 min
|
Cook Time
:
20 min
|
Total Time
:
35 min
|
Yield
:
12" Skillet or round cake pan
|
Servings
:
8
Whether cornbread should be sweet or savory is a hot debate, yet everyone agrees this recipe is sure to please! With a beautiful crumble, our Classic Style Cornbread is perfect with any kind of chili, or as a side to a meal.
1tbsp vegetable oil for skillet

 

1

cup Professor 

Torbert's

 Orange Corn Meal

 

1 cup flour 

1 tbsp baking soda

 

1 tsp kosher salt

3/4 cup sugar

1 cup buttermilk (could also use milk as a substitute)

1 egg (or 1/4 cup sour cream as a substitute if egg allergic)

1/3 cup vegetable oil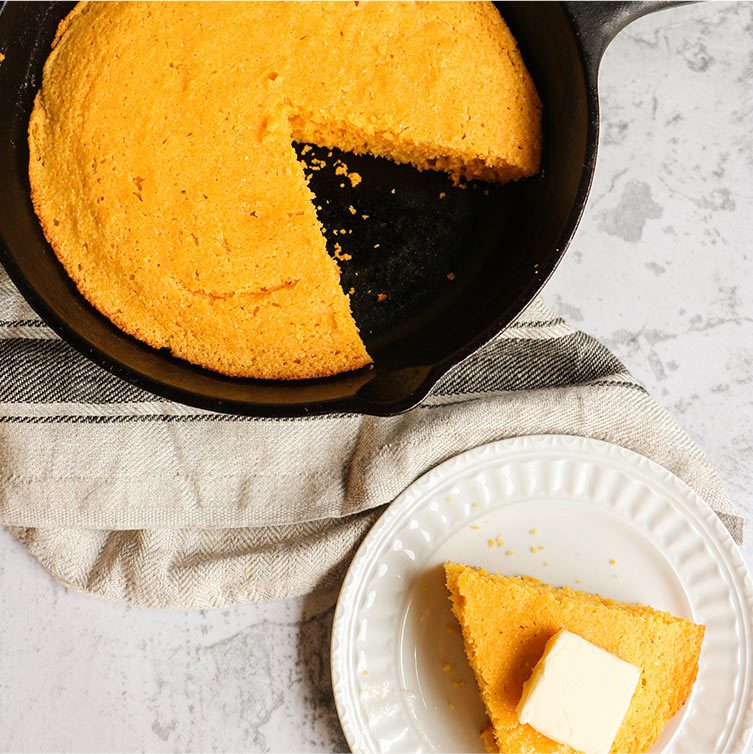 Preheat oven to 400F. Coat your cast iron with a very thin layer of vegetable oil and place it in your preheating oven to warm up. If using a regular cake pan or muffin tin, grease and set aside.

 

In a medium bowl, combine the corn meal, flour, baking soda, salt, and sugar.

 

In another medium bowl, whisk together buttermilk, egg, and oil. If you are using a buttermilk alternative, make sure it has some kind of acidity in it! This is what activates the baking soda to create the fluffiness in the corn bread, so substitute with sour cream, yogurt, or something else with acidity. 

 

When the oven is preheated, take the skillet out of the oven.

 

Combine the wet and dry ingredients and mix until well incorporated. This will be a relatively thin batter.

 

Pour the batter into the hot cast iron skillet. It will sizzle, giving your cornbread a dark crust along the bottom. If not using a skillet, transfer your batter to the greased cake pan or muffin tin.

 

Place the skillet back in the oven, and bake for 18-22 minutes, until the top of the cornbread is golden brown.

 

This is best when served immediately, but it can be stored in an airtight plastic bag overnight.