Prep Time
:
30 minutes
|
Cook Time
:
30 minutes
|
Total Time
:
1 hour
|
Yield
:
8 tortillas
|
Servings
:
1 tortilla
Easy Traditional Tortillas
Easy Traditional Tortillas provide the best of both worlds! With all-purpose and corn flour, they have the flavor of corn tortillas, and texture of a flour tortilla!
2 cups Professor Torbert's Orange Corn Flour
½ cup all-purpose four  
1 teaspoon salt
1 tablespoon vegetable shortening
¾ cup very hot water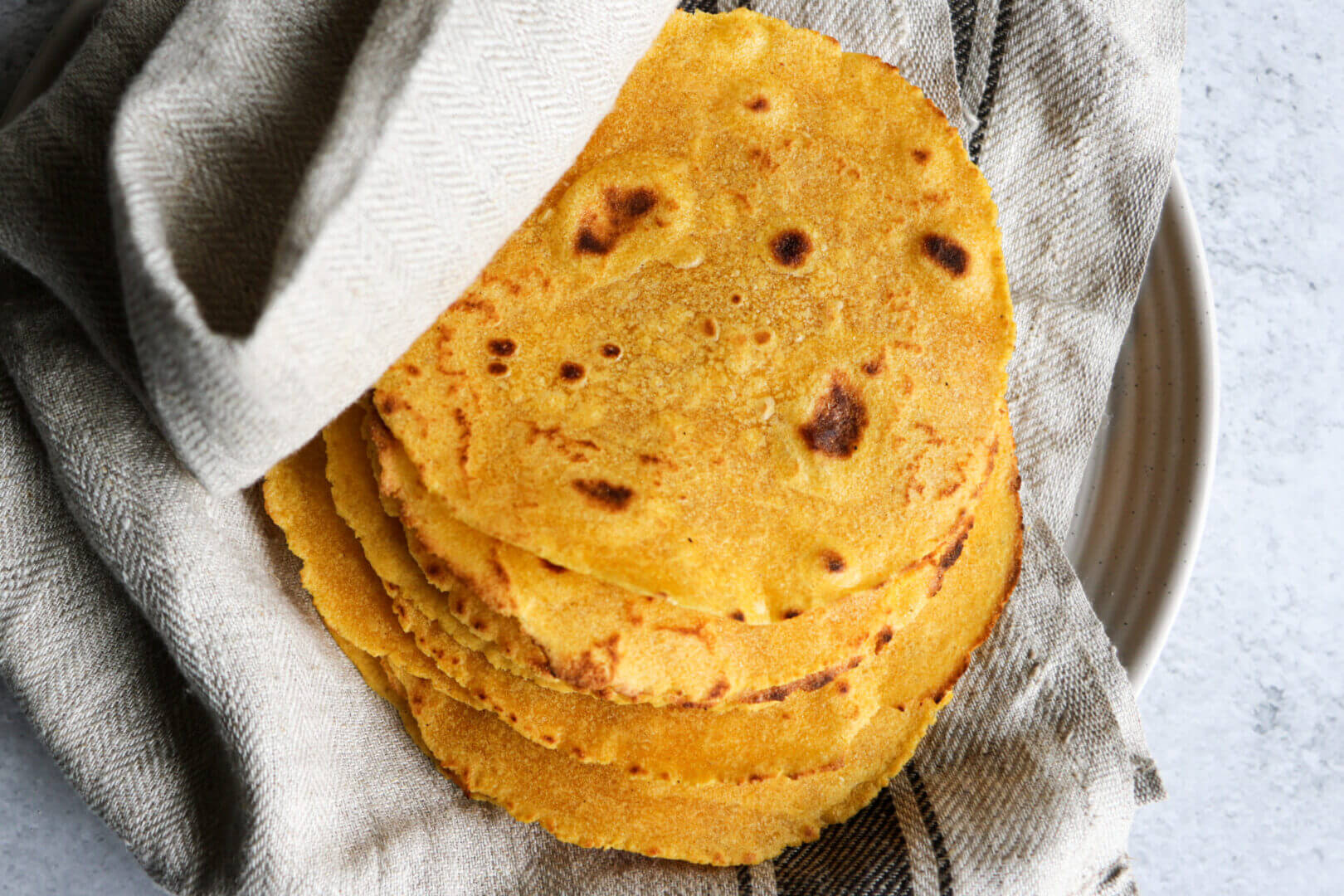 In a large bowl, mix all-purpose flour, corn flour and salt. Add the shortening and use your hands to mix it into the flour mixture until it resembles a coarse meal. Add the hot water, ¼ cup at a time and mix until you get a wet dough. Knead the dough until smooth and is no longer sticking to your hands.
Cover and allow to rest for 20 to 30 min.
Heat up a skillet or a griddle on medium high heat for at least 5 minutes.
To roll the tortillas, make balls about 1 ½" in size. Place the ball of dough between two sheets of parchment paper and roll it out with a rolling pin until you have a thin tortilla.
If using a tortilla press, open the tortilla press and lay one sheet of plastic on the press. Place the masa ball in the center, lay a second sheet of plastic, close the tortilla press and press down gently.
Hold the tortilla in your hand and carefully remove the top plastic sheet on each side. Turn the tortilla and remove the other sheet. Gently lay the tortilla down on the skillet. You don't need to add any fat to the skillet.
Let the tortilla cook for 30 to 45 seconds on each side. The tortilla should look a little pale with a few air pockets and brown around the edges.