Prep Time
:
20 min
|
Cook Time
:
25 min
|
Total Time
:
45 min
|
Yield
:
~70-80 2" cookies
|
Servings
:
N/A
Citrus Polenta Cookies are perfect for any time you want it to feel like summer. With a lovely crunchy, buttery texture, and a hint of citrus, these cookies will disappear in no time!
1 ¾ cups all-purpose flour
1 cup Professor Torbert's Orange Corn Grits
½ tsp salt
2 sticks butter, room temperature
⅔ cup – 1 cup sugar
1 tbsp orange or lemon zest
1 whole egg
2 egg yolks
1 ½ tsp vanilla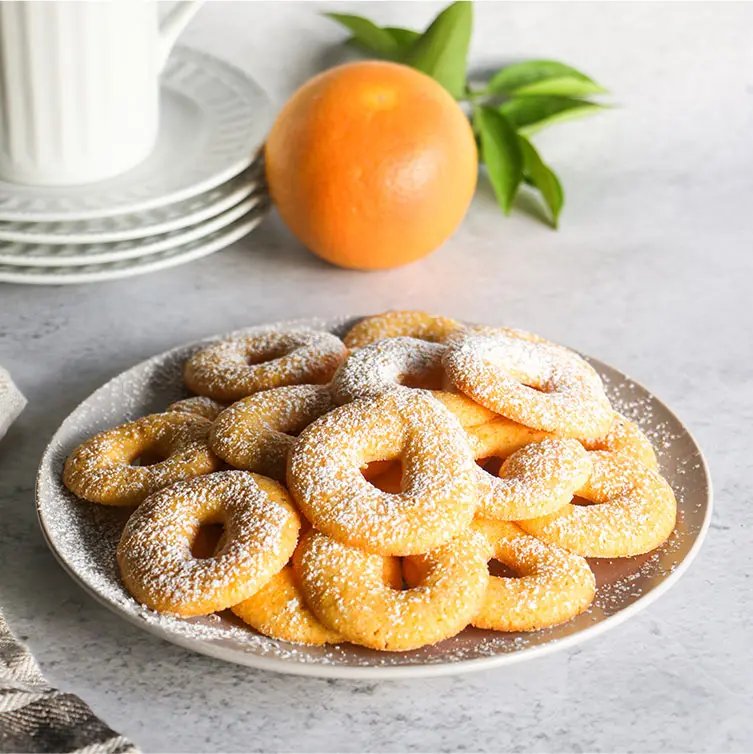 Preheat oven to 350F.
In a medium bowl, whisk together the flour, grits, and salt, and set aside.
In a large bowl, use an electric hand-mixer or stand mixer to cream together the softened butter and the sugar. Once it becomes light and fluffy, add the zest.
Add the egg and egg yolks one at a time, thoroughly mixing into the butter mixture. Add the vanilla and mix until combined.
Gradually add the dry ingredients. Mix until well combined.
To get the swirled cookie shape, transfer the dough into a piping bag with a star tip. Pipe the mixture onto a baking sheet lined with parchment paper in small circles, about ¾ inches apart. If the dough is too thick to pipe easily, you can add a small amount of neutral oil, but don't add too much or your cookies will get greasy. You can also spoon out teaspoons of dough onto a parchment-lined baking sheet for a simpler alternative.
Bake 8-12 minutes, or until the edges of your cookies are golden brown. Cool on a cookie rack.