Prep Time
:
30 minutes, plus 1 hour to cool
|
Cook Time
:
N/A
|
Total Time
:
1 hour 30 minutes
|
Yield
:
One 12" pie crust, 8 servings
Orange Corn gives this golden pie dough incredible color, and a wonderful, buttery taste. Use this dough with any pie recipe, be it savory or sweet.
⅔ cup water
¼ cup Professor Torbert's Orange Corn Meal
1 cup all-purpose flour
¼ cup Professor Torbert's Orange Corn Flour
½ tsp salt
1 ½ tsp sugar (½ tsp for savory recipes)
1 stick unsalted butter, cold
1-2 tbsp ice-water (optional)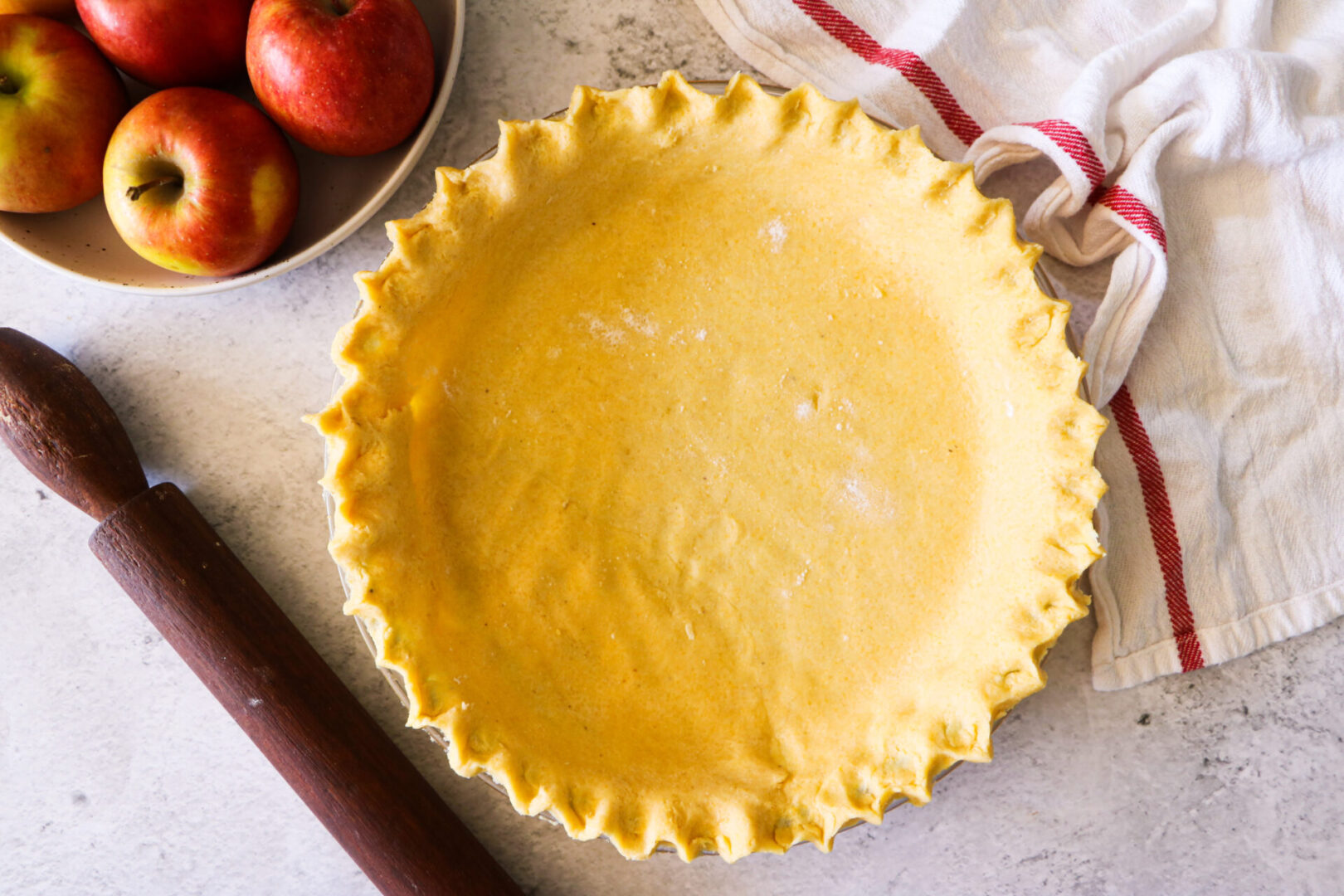 In a small saucepan, bring water to a boil. Add the corn meal while stirring, and reduce heat to medium. Cook the corn meal until thick. The water should be almost completely gone, and the corn meal should be solid and able to be formed into a ball at the bottom of the pot.
Transfer the thickened corn meal to a sheet of plastic wrap, and wrap it into a ball. Cool the corn meal by placing the ball in the freezer. 
In a large mixing bowl, whisk together the all-purpose flour, corn flour, salt, and sugar. 
Cut the butter into small pieces and combine with the dry ingredients either with a stand mixer, hand mixer, food processor, or your fingers. If using your fingers, pinch the butter into the dry ingredients to combine it. The dough will probably not stick together at this point, but the butter should be broken up well.
Add small amounts of the cold corn meal to the rest of the ingredients incrementally and combine well. 
At this point, your dough should stick together well. If it is too wet, add more all-purpose flour. If it is too dry, add very small amounts of ice water until the dough sticks to itself.
Form the dough into a disk, and wrap with plastic wrap. Place in the fridge and cool for at least an hour; it can stay refrigerated for up to two days. You can also freeze the dough for up to a month. If it is frozen, thaw it in the fridge overnight before using.
When ready to use, roll the dough with a rolling pin and carefully place in a pie pan.