Prep Time
:
25 minutes
|
Cook Time
:
20 minutes
|
Total Time
:
45 minutes
|
Yield
:
15 servings
|
Servings
:
1 slice
Mediterranean Baked Polenta
This Mediterranean Baked Polenta recipe includes onions, tomatoes, feta, and oregano, but feel free to make substitutions! A good rule of thumb is to use 2-3 vegetables, cheese, and an herb. Pre-cook your vegetables, add everything to your polenta, and bake! 
6 cups vegetable stock (gluten-free)

 

1 ½ cups Professor Torbert's Orange Corn Grits

 

1-2 tbsp olive oil (for cooking)

 

½ onion, thinly sliced

 

1 medium tomato, diced

 

Salt

 

Black pepper

 

1/2 cup feta cheese, crumbled 

1-2 tbsp fresh oregano, finely chopped

 

1-2 tbsp margarine or butter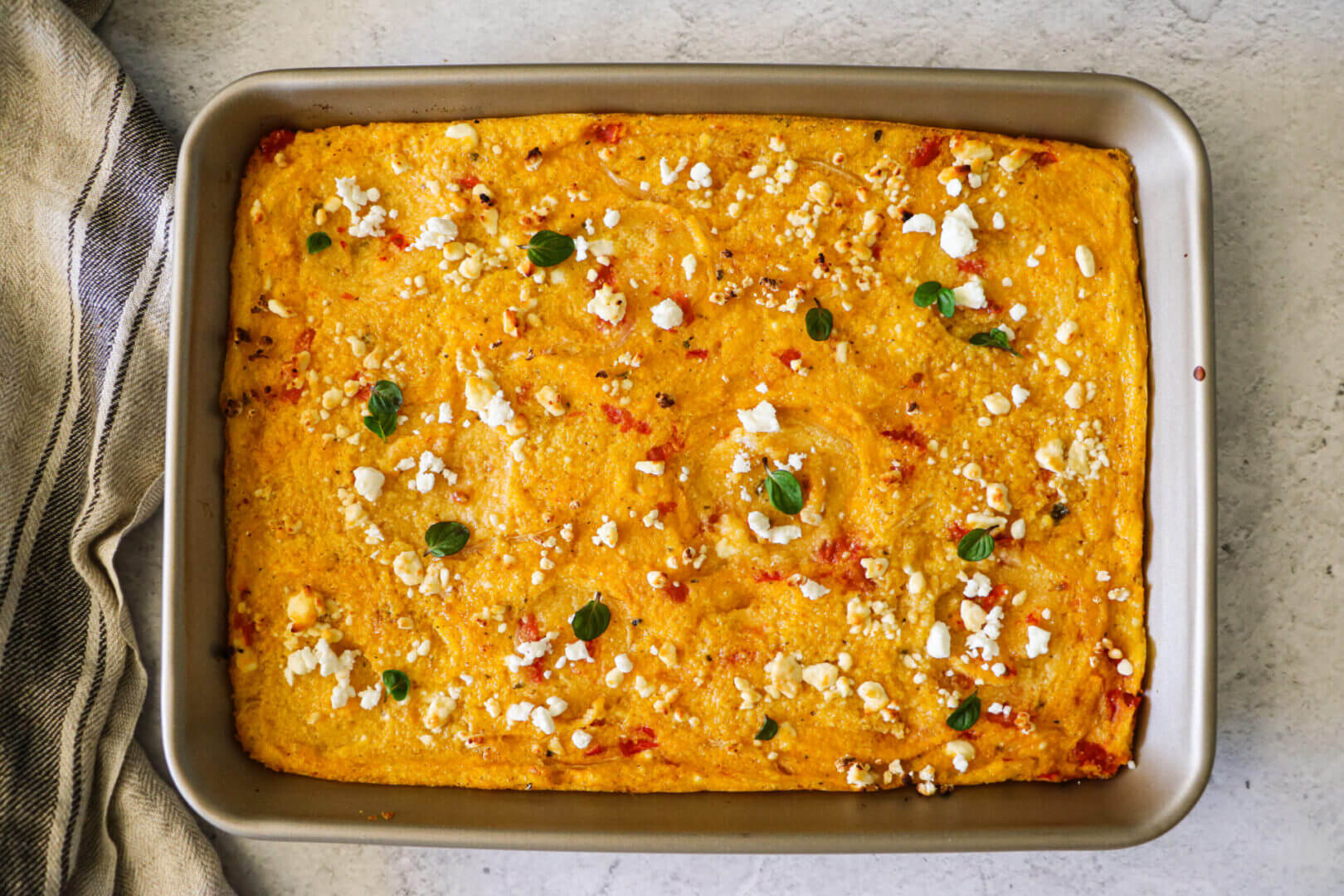 Preheat oven to 480 F.

 

Boil the vegetable stock in a medium pot. Slowly pour in the grits, stirring continuously. Turn down the heat, and simmer lightly for 15-20 minutes.

 

In a pan, 

saute

 the vegetables in oil until the onions are glassy and soft.

 

Once the grits/polenta is very thick, stir in the vegetables, oregano, and half of the feta. Season to taste with salt and pepper.

 

In an oven-proof, 9"x13" baking dish, spread the polenta in an even layer, about half an inch thick. Spread the rest of the feta across the top of the polenta. Crumble the margarine or butter across the top as well. 

 

Bake for about 20 minutes. You should see the polenta release slightly from the edges of the pan. 

 

Allow to cool for 10-15 minutes. 

 

Cut into slices and serve.