Prep Time
:
20 minutes
|
Cook Time
:
15 minutes
|
Total Time
:
35 minutes
|
Yield
:
8-10 fritters
|
Servings
:
2 fritters
Vegetable Fritters are a great way to incorporate more veggies into your repertoire! The fritters also pair perfectly with our Yogurt Dill Dip.
1 large zucchini, shredded
1 carrot, shredded
2 green onions, thinly sliced (greens and whites)
½ bell pepper finely diced
1 tablespoon Dijon mustard
1 cup grated parmesan cheese
1/8 cup Professor Torbert's Orange Corn Flour
1 teaspoon salt
Pinch of pepper
½ teaspoon paprika
½ teaspoon onion powder
1 teaspoon garlic powder
1 egg
FOR THE YOGURT DILL DIP
1 5.3oz cup plain Greek yogurt
1 garlic clove, grated
1 tablespoon fresh chopped dill
Drizzle of honey
Salt and pepper to taste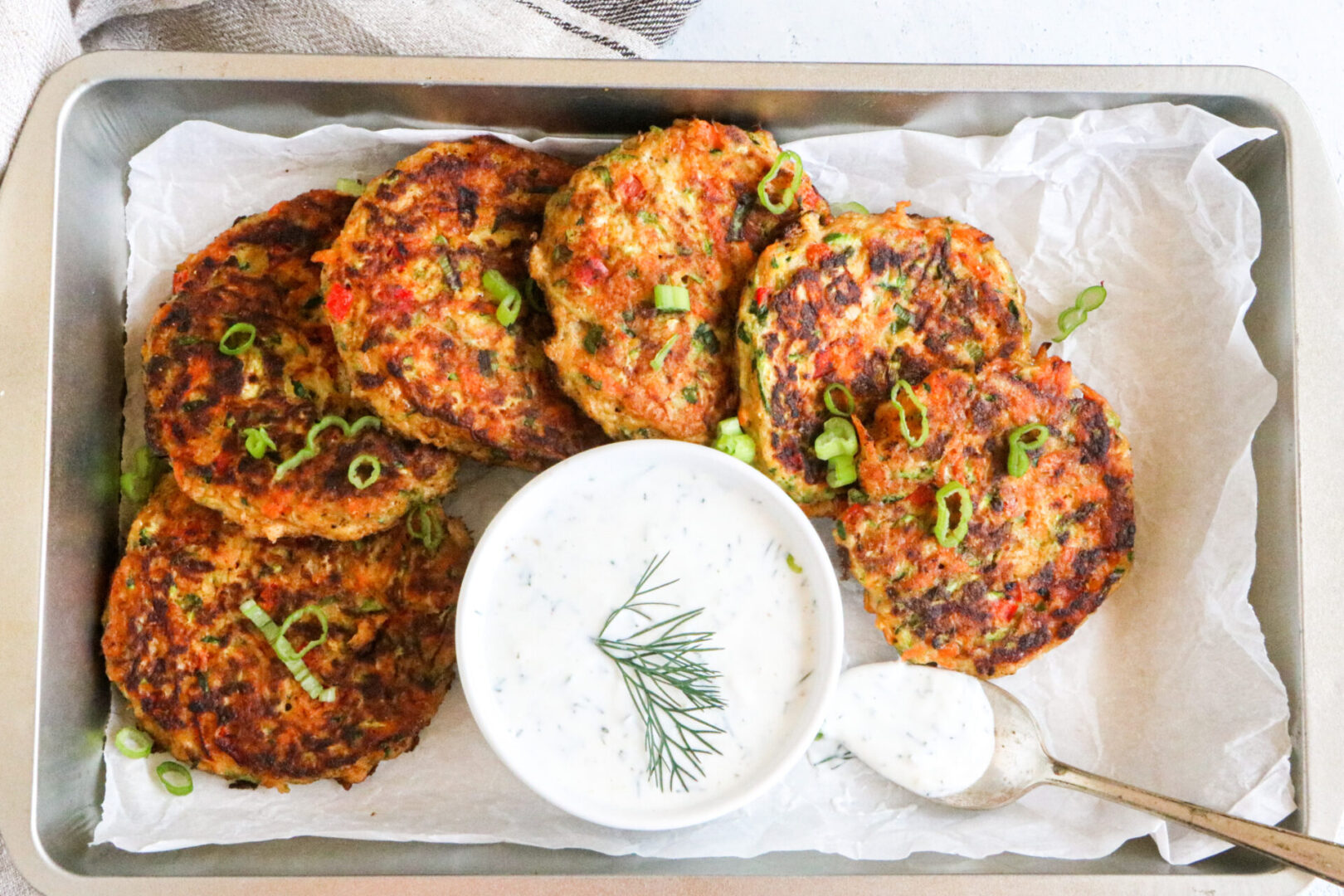 Make the yogurt dill: in a small bowl, add the yogurt, grated garlic, honey, dill and salt and pepper. Mix well. Taste and adjust seasoning if needed. Cover and chill until ready to serve.
In a small colander, place the shredded zucchini and sprinkle with 1 teaspoon of salt. Let it sit for 10 minutes, or until it releases most of the liquid. Transfer the zucchini to a thick paper towel or kitchen towel and squeeze out any extra water. Transfer to a mixing bowl.
Add the shredded carrots, sliced green onions, diced bell pepper, Dijon mustard, parmesan cheese, corn flour, salt, pepper, paprika, onion powder, garlic powder and egg. Mix everything until well combined.
Heat a skillet on medium high heat and add enough oil to barely cover the bottom of the skillet. Make one very small patty (for taste test) and cook it for a couple of minutes until golden brown on both sides. Taste the patty and adjust seasoning on the veggie mix if needed.
Continue forming patties with your hands, about 2 tbls in size, and drop in the hot oil. (you can also drop them into the oil and flatten with the back of a spoon If you don't want to use your hands.) Cook for about 5 minutes or until the bottom starts to turn golden brown and the top looks set around the edges. Flip and cook for a couple more minutes. Transfer to a plate lined with paper towels to drain any excess oil. Repeat with the rest of the vegetable mixture.
Serve warm with the yogurt dill dip.