Prep Time
:
10 minutes
|
Cook Time
:
40 minutes
|
Total Time
:
50 minutes
|
Yield
:
4 servings
Eggplant Parmesan is the ultimate comfort food. Our corn flour and corn meal add wonderful color and texture to a classic family favorite!
1 large eggplant (preferably round)
½ cup Professor Torbert's Orange Corn Flour
½ teaspoon salt
¼ teaspoon pepper
2 eggs
1 tablespoon milk
½ cup Professor Torbert's Orange Corn Meal
½ cup grated parmesan cheese
Avocado or vegetable oil for frying
1 cup mix mozzarella and parmesan cheese, divided
1 25 oz jar marinara sauce
Fresh basil for garish
Cooked pasta for serving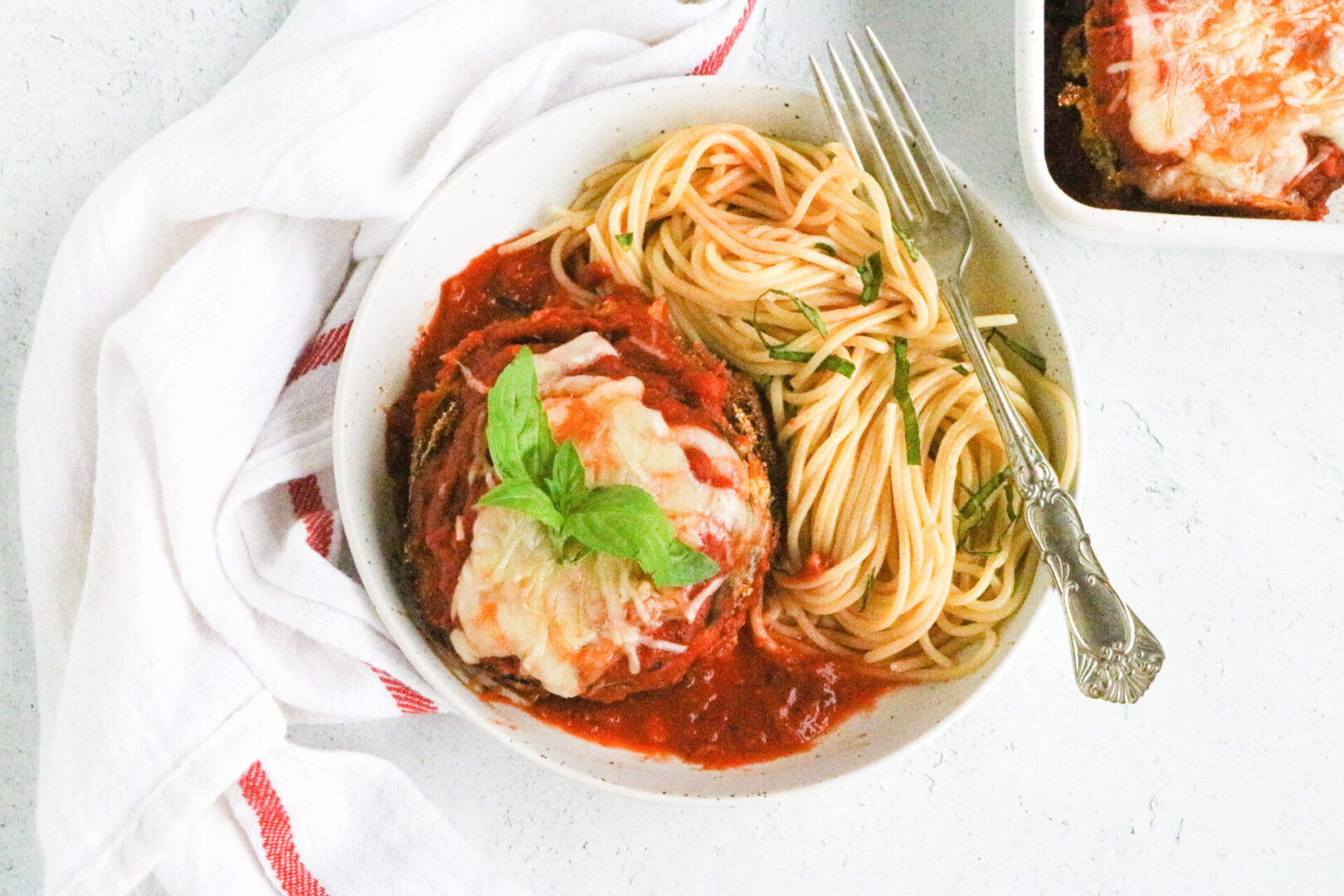 Preheat Oven to 375 Degrees.
Slice the eggplant into even discs not bigger than ¼" thick. Set side.
Prepare your breading station: On a plate, add the corn flour, ½ teaspoon salt and ¼ teaspoon pepper, set aside. In a bowl, whisk together the eggs and milk. Place next to the plate of corn flour.
On a different plate, mix the corn meal and grated parmesan cheese. Place it next to the egg mixture.
Heat up a large skillet on medium high heat and add enough oil to barely cover the bottom of the pan.
While the skillet is heating up start breading the eggplant discs: First, dredge in flour, then dip in the egg mixture and finally dredge in the cornmeal and parmesan mixture. Place onto the hot skillet and cook until golden brown on both sides, about five minutes. Work in batches, you can fry as many eggplant rounds as you can fit in the skillet. Add more oil as needed.
Arrange the eggplant: Add 1 cup of marinara sauce on the bottom of an 8×8 baking dish and start layering the fried eggplant, starting with the biggest round on the bottom of the dish and finishing with the smallest round on the top. Add about 1 tablespoon of the mozzarella/parmesan cheese between layers. This will help the eggplant to stick together. Once you have all the eggplant in the baking dish, cover with the rest of the marinara sauce and top with the remaining cheese. Bake in the preheated oven for 30 minutes until the cheese is melted and bubbly. Serve with your favorite pasta and garnish with fresh basil leaves.

Tags: gluten-free, Vegetarian