Prep Time
:
20 minutes
|
Cook Time
:
25 minutes
|
Total Time
:
45 minutes
|
Yield
:
6 servings
Our Green Chicken Tamale Pie recipe provides options for the level of heat you desire. This comforting and flavorful recipe is also much easier to make than traditional tamales.
2 jalapeno peppers (you can also sub with canned mild hatch peepers for less heat)
½ onion
8 oz tomatillos (about 5), husk removed and rinsed
2 whole garlic cloves, peeled
Bunch of fresh cilantro
½ teaspoon Mexican oregano
½ teaspoon of salt
1 teaspoon chili powder
½ teaspoon ground cumin
1 tablespoon oil
2 cups cooked shredded chicken (rotisserie works best)
1 can white beans
FOR THE PIE CRUST
3/4 cup Professor Torbert's Orange Corn Meal
1/3 cup all-purpose flour
1 teaspoon salt
1/2 teaspoon baking powder
1/4 teaspoon baking soda
3/4 cup buttermilk
1 egg
4 tablespoons butter, melted
1/2 sharp cheddar cheese
Sour cream for serving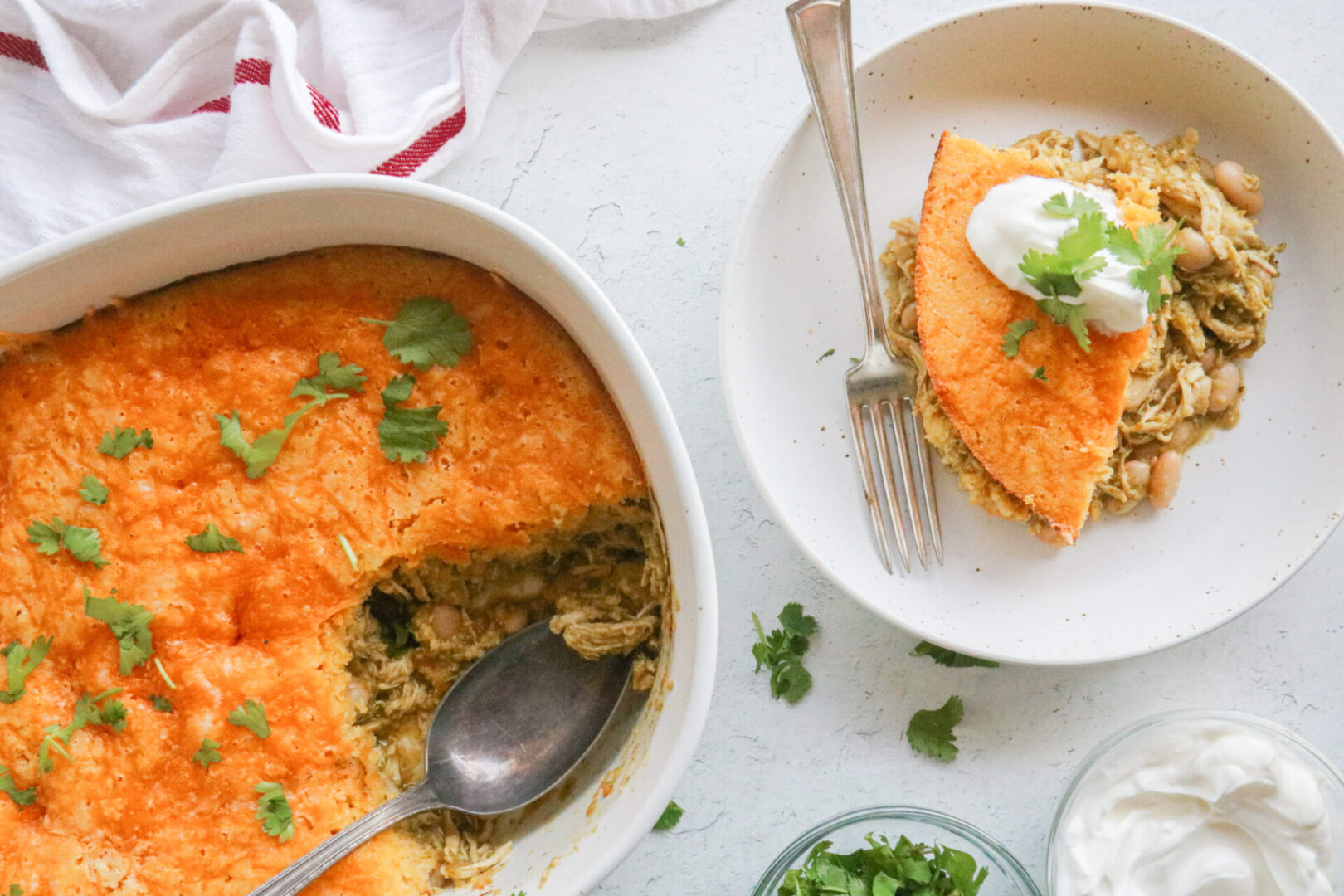 In a small sauce pan, add the jalapeños and onions and boil for five minutes. Lower the heat and add the tomatillos. Cook for five more minutes or until they start turning pale (Do not over-cook. If they burst in the water the sauce will turn out bitter). Turn the heat off and allow to cool.
Once the tomatillos are cooled, transfer to a blender along with the garlic, fresh cilantro, oregano, salt, pepper, chili powder and cumin. Blend until smooth.
In a large sauce pan, add the oil and turn the heat to medium. Add the green salsa and cook for five minutes. Add the chicken and beans and stir until well combined. Transfer to a 2 ½ qt baking dish and set aside.
Preheat oven to 375 degrees.
In a bowl whisk the dry ingredients: cornmeal, flour, salt, baking powder and baking soda. Add the wet ingredients: buttermilk, eggs and butter. Whisk until well incorporated. Pour the batter into the baking dish, making sure all the chicken is covered with the corn batter. Smooth the top with a spatula and sprinkle with cheddar cheese. Bake for 25 minutes until golden brown.
Serve with sour cream and extra cheese if desired.