Prep Time
:
20 minutes
|
Cook Time
:
2 hours
|
Total Time
:
2 hours 20 minutes
|
Yield
:
4 servings
Braised Short Ribs with Cheesy Grits
Short ribs are the perfect fix-it-and-forget-it hearty meal, requiring very little prep time but delivering big on flavor. Paired with our creamy, cheesy orange corn grits, these fall-off-the-bone ribs are a forkful of comfort in every bite!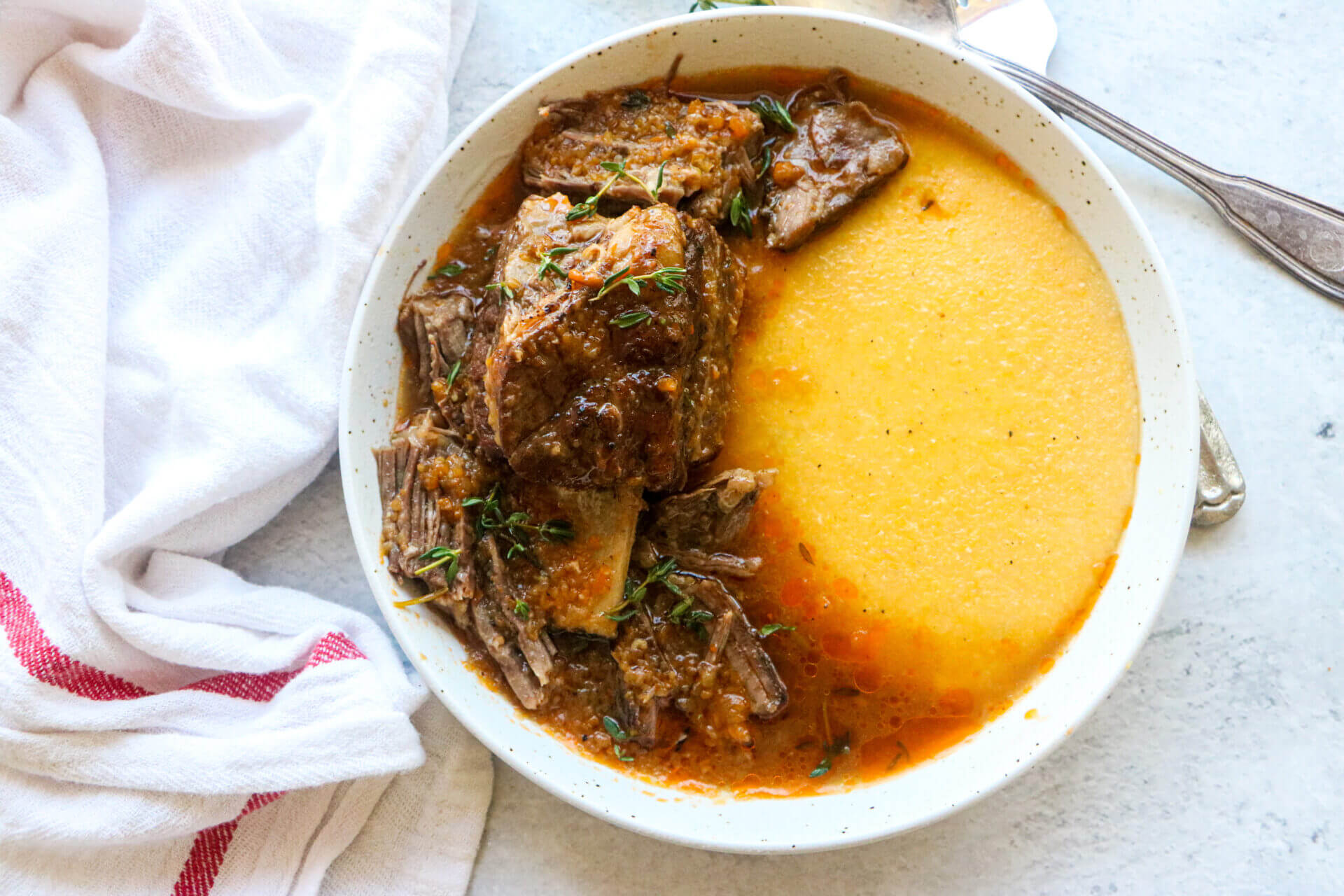 In a large pot, heat about 2 tablespoons of olive oil over medium high heat. Season the ribs generously with salt and pepper and sear for about 3 minutes on each side. Add oil as needed. Don't over crowd the ribs, work in batches if needed.
While the ribs are browning, add the onions, celery, carrots, and garlic in a food processor and puree until fine. Set aside.
Remove the ribs from the pot and clean any burnt bits. Add 1 tablespoon of clean olive oil and cook the veggies until dry and start to come together in a paste. About 8 minutes.
Add the tomato paste and adobo sauce and cook for 5 minutes.
Add the herbs and stock and return the ribs to the pot. Reduce the heat to a gently simmer and cook covered for 2-2 1/2 hours or until the ribs are very tender.
While the ribs cook, make the grits: in a large pot bring the stock and milk to a boil and add the grits. Lower the heat and cook for 10-15 minutes, stirring frequently.
Stir in the butter and cheese. Season with salt and pepper to taste.
Remove the bones and tissue from the ribs and serve over the cheesy grits. Garnish with fresh thyme.
Enjoy!