Prep Time
:
10 minutes
|
Cook Time
:
25 minutes
|
Total Time
:
35 minutes
|
Yield
:
2-3 bowls
|
Servings
:
1 bowl
Our Grits Breakfast Bowl is comfort food at its finest! Serve this restaurant-quality breakfast or brunch on a special occasion or enjoy in your pj's on a lazy Sunday.
1 sweet potato
1 bell pepper
½ onion
Olive oil
½ cup Professor Torbert's Orange Corn Grits
2 cups water
½ teaspoon salt
2 tablespoons butter
½ cup shredded cheddar cheese
¼ teaspoon garlic powder
Salt and pepper to taste
3-4 eggs cooked your style
Fresh chopped cilantro for garnish (optional)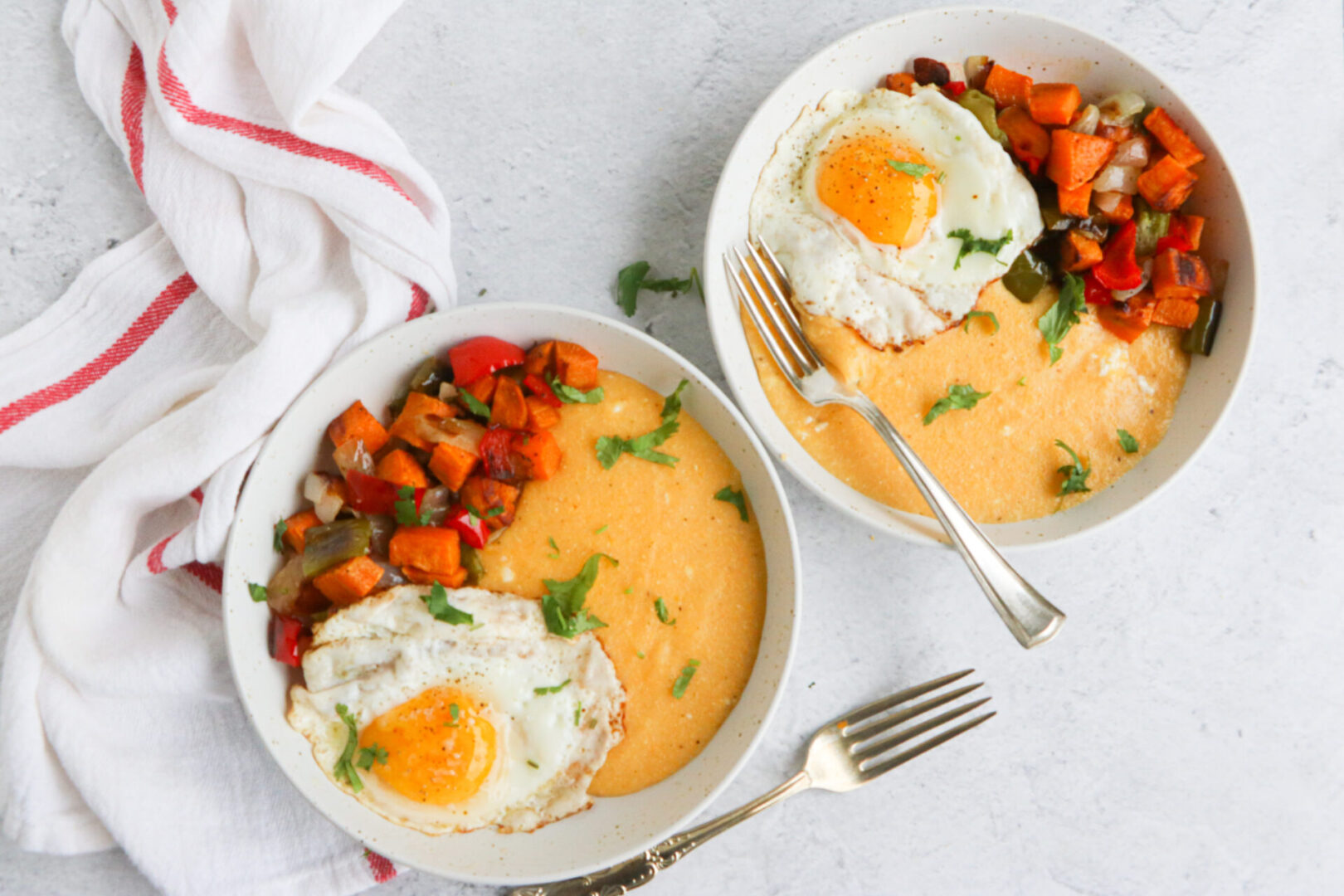 Preheat oven to 400 degrees and line a baking sheet with parchment paper.
Prepare the veggies: peel the potato and dice it into ½" cubs along with the bell pepper and the onions. Place on the prepared baking sheet and drizzle with 1 tablespoon olive oil. Season with salt and pepper and bake for 25 minutes.
Make the grits: Bring 2 cups of water and ½ teaspoon of salt to a boil and add ½ cup of grits. Lower the heat and cook for 10-15 minutes stirring constantly. Add the butter, cheese, garlic powder and season with salt and pepper. Keep warm on low temperature while you make your favorite eggs.
Serve the grits with a side of roasted veggies and top with the eggs. Sprinkle with fresh cilantro.