Prep Time
:
10 minutes
|
Cook Time
:
10 minutes
|
Total Time
:
20 minutes
|
Yield
:
2-4 servings
Baked Zucchini Fries are a healthy, delicious, low-calorie snack! This recipe uses an air fryer, but the fries can be baked in the oven as well.
For the Zucchini Fries:
2 large zucchinis
2 eggs
1 teaspoon deli mustard
½ teaspoon salt
¼ teaspoon pepper
½ cup Professor Torbert's Orange Corn Meal
½ cup grated parmesan cheese
½ teaspoon paprika
½ teaspoon garlic powder
Pinch of salt
Cooking spray
For the Creamy Chipotle Dip:
1 cup light mayonnaise or plain Greek yogurt
2 chipotle peppers in adobo, seeds removed
½ teaspoon of honey
Salt and pepper to taste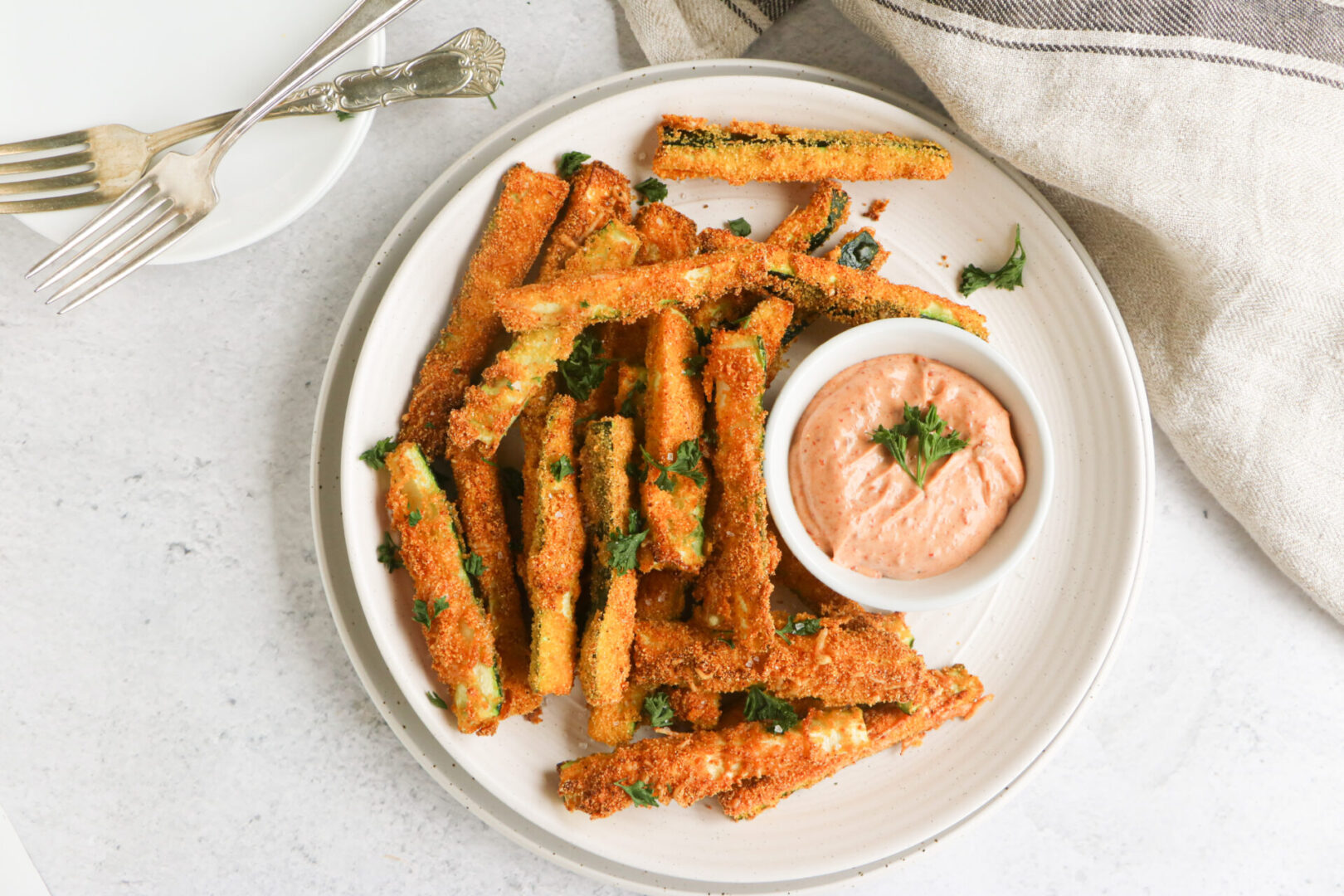 Make the chipotle dip: In a food processor add the mayonnaise, chipotle peppers, honey, salt and pepper and process until smooth and creamy. Transfer to a bowl, cover and chill in the refrigerator while you make the zucchini fries.
Make the Zucchini fries: Remove both ends of the zucchini and cut them in half. Cut each half into four sticks. Transfer to a plate and set aside.
In a shallow plate/bowl whisk the eggs, deli mustard, salt and pepper. In a separate plate mix the corn meal, parmesan cheese, paprika, garlic powder, a pinch of salt and pepper.
Prepare your working station. Place the zucchini fries first, next the bowl with the egg, then the plate with the corn meal and cheese mixture and finally a large plate or baking sheet.
Dip each zucchini fry in the egg mixture, then dredge it in the corn meal mixture and finally place it on the baking sheet. Repeat with each zucchini fry until you are done. You can also do a handful of fries at time just make sure they are not overlapping when you transfer them to the baking sheet.
Spray the basket of the air fryer with cooking spray and place the zucchini fries in a single layer. Generously spray the fries and bake for 5-8 minutes at 400 degrees until golden brown.
You might need to cook the fries in batches, if you do turn your oven on to the lowest setting and place a wire rack on a baking sheet. Transfer the fries while they're done and keep them warm in the oven while you cook the second batch. The wire rack will help the air circulate and will keep the fries crispy.
Serve with the creamy chipotle dressing.