Prep Time
:
25 minutes
|
Cook Time
:
20 minutes
|
Total Time
:
45 minutes
|
Yield
:
1 casserole
Breakfast Grits Casserole
This classic take on a breakfast casserole provides a mix of savory goodness. With sausage, potatoes, and onion atop Professor Torbert's creamy Orange Corn Grits, this recipe is sure to hit the spot! 
4 cups chicken stock 

 

1 cup Prof

essor 

Torbert's

 Orange Corn Grits

 

1 cup shredded cheddar cheese

 

½ stick unsalted butter

 

Vegetable oil

 

12oz pork breakfast sausages, cut into small pieces

 

1 yellow onion, finely diced

 

2 medium-sized potatoes, finely diced

 

Salt

 

Pepper

 

Cayenne (optional)

 

Chopped chives (optional, garnish)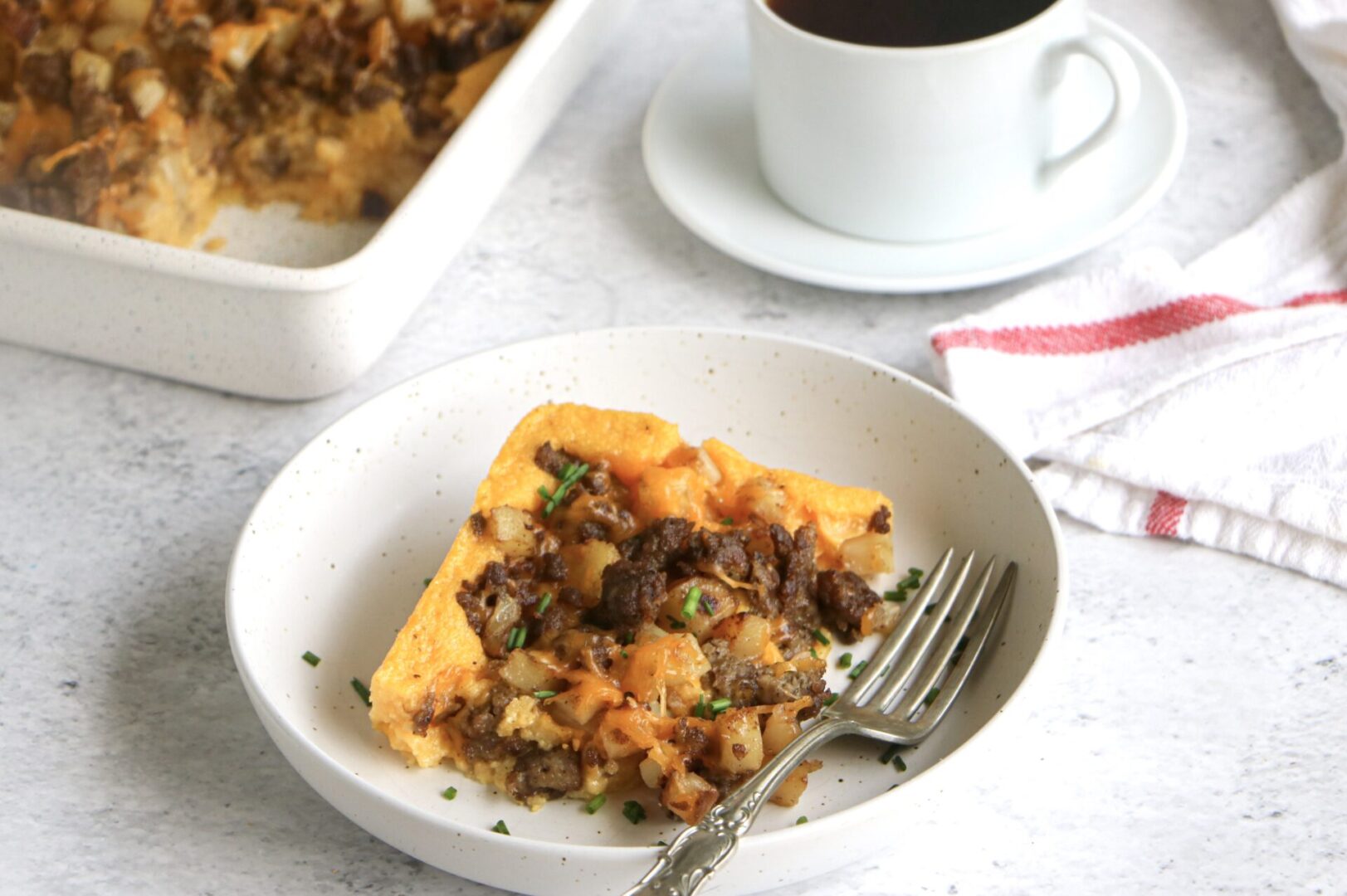 Preheat oven to 400F, and lightly grease a 9×13 casserole dish.

 

In a medium saucepan, bring the chicken stock a boil. Once it boils, bring it down to a simmer and whisk in the grits. Gently simmer, mixing occasionally, for 10-15 minutes, or until the grits are thick. They should be thick enough to solidify when they co

ol.

 

While the grits are cooking, heat a thin layer of vegetable oil in a frying pan. Cook the sausage on medium high until they are thoroughly cooked and have a nice brown color on the outside (~5-7 minutes). Remove from the pan and set them to the side in a bowl, keeping the fat in the pan. 

 

Add a little more vegetable oil to the pan, and sauté the onion and potato until the onions are glassy, and the potatoes are soft. Season to taste with salt, pepper, and cayenne pepper if desired.

 

While the vegetables are cooking, stir ½ cup of shredded cheese and the butter into the grits until well incorporated. If the grits are done and thick enough, spread a layer of grits in the bottom of your casserole dish. This can be done before the vegetables are ready. 

 

Once the vegetables are ready, mix them with the sausages. Spoon the potato, sausage, and onion mixture onto the layer of grits, covering evenly. Sprinkle the rest of the cheese over the top of the casserole.

 

Bake for 15-20 minutes, or until the cheese has melted and browned to your liking. Allow the casserole to cool for about 15 minutes.

 

Serve with a sprinkle of chopped chives.