Prep Time
:
20 min
|
Cook Time
:
15 min
|
Total Time
:
35 min
|
Yield
:
N/A
|
Servings
:
4
This classic Southern side dish is actually easy to make, and highlights the wonderful tartness of green tomatoes. Fried Green Tomatoes can go with almost any meal, but you don't need more than a simple Remoulade to enjoy them as is!
Allergens: Gluten, Dairy, Egg
4 green tomatoes (unripe red tomatoes)
1 tsp salt (+ ~2 tbsp more for sprinkling)
1 cup all purpose flour
½ tsp cayenne pepper
½ tsp ground black pepper
2 eggs
2 tbsp buttermilk or whole milk
½ cup breadcrumbs
½ cup Professor Torbert's Orange Corn Grits
~¼ cup vegetable oil
Quick and easy Remoulade dipping sauce:
Makes ~1 ½ cups of sauce
1 cup mayonnaise
4 tbsp relish
2 tsp paprika
2-3 tbsp hot sauce 
1 tbsp mustard (optional)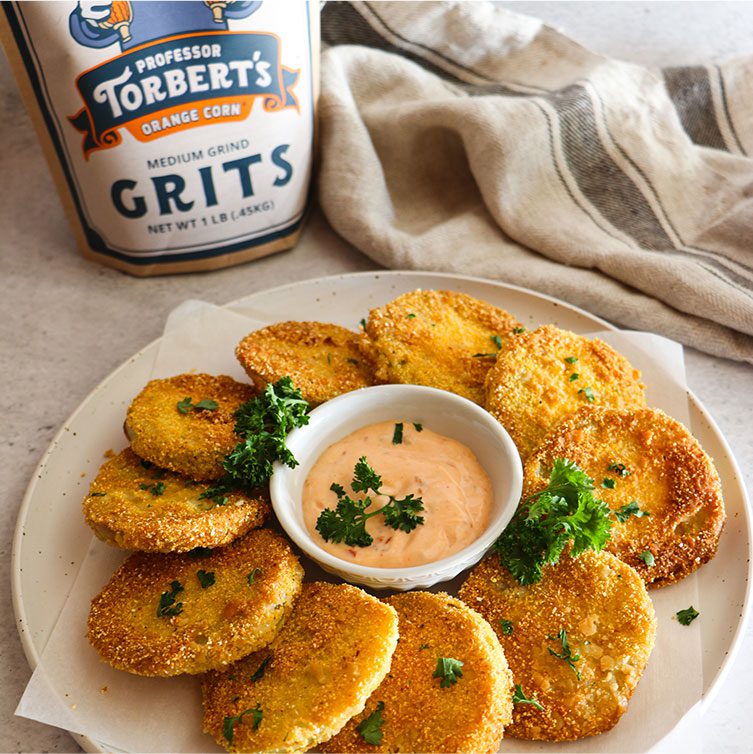 Wash tomatoes, and remove the stems. Cut the tomatoes into ¼ inch thick slices, and place them onto a paper towel or drying rack. Sprinkle salt on both sides of each slice. Allow to sit for at least 10 minutes.
Prepare the three mixtures for the breading in three flat bowls:

Flour mixture: combine the flour, cayenne pepper, and black pepper, and whisk until well combined.
Egg mixture: combine the two eggs and milk, and whisk until homogenous.
Breadcrumb mixture: combine the breadcrumbs and the grits, and mix until evenly combined.

Once the tomatoes have been allowed to sit for at least 10 minutes, gently dab them with paper towel to wick away as much moisture as possible. One by one, dip the tomato slices in the flour mixture, then the egg mixture, and finally the breadcrumb mixture, making sure to evenly and thoroughly covered all sides of the tomato with each mixture. Once they are coated, set them on a plate until you are ready to fry.
To fry the tomatoes, heat up vegetable oil in a skillet or nonstick pan. Depending on the size of your pan, you will need to adjust the amount, but you want your oil to be about ⅛ of an inch deep. Once the oil is hot, add tomatoes and fry, about 4 at a time. There should be sizzling, however not too much. Cook the tomatoes slowly to soften them, about 4 minutes on each side, or until there is a deep golden brown on both sides.
Remove the fried tomatoes from the pan, repeat for all of the slices. Serve with Remoulade dipping sauce.
Remoulade dipping sauce:
Combine mayonnaise, relish, and paprika.
Add hot sauce and mustard to taste.

Tags: Appetizer, Dinner, Quick and Easy, Side dish, Vegetarian