Prep Time
:
1 hour, 20 minutes
|
Cook Time
:
20 minutes
|
Total Time
:
1 hour, 40 minutes
|
Yield
:
40-45 fries
Polenta fries are a crunchy and savory treat that can be served as a snack or side dish. 
2 ½ cups vegetable stock

 

1 cup Professor 

Torbert's

 Orange Corn Grits

 

½ cup shredded cheddar cheese or grated parmesan cheese

 

2 tbsp unsalt

ed butter

 

¼ tsp garlic powder

 

½ tsp salt + more for sprinkling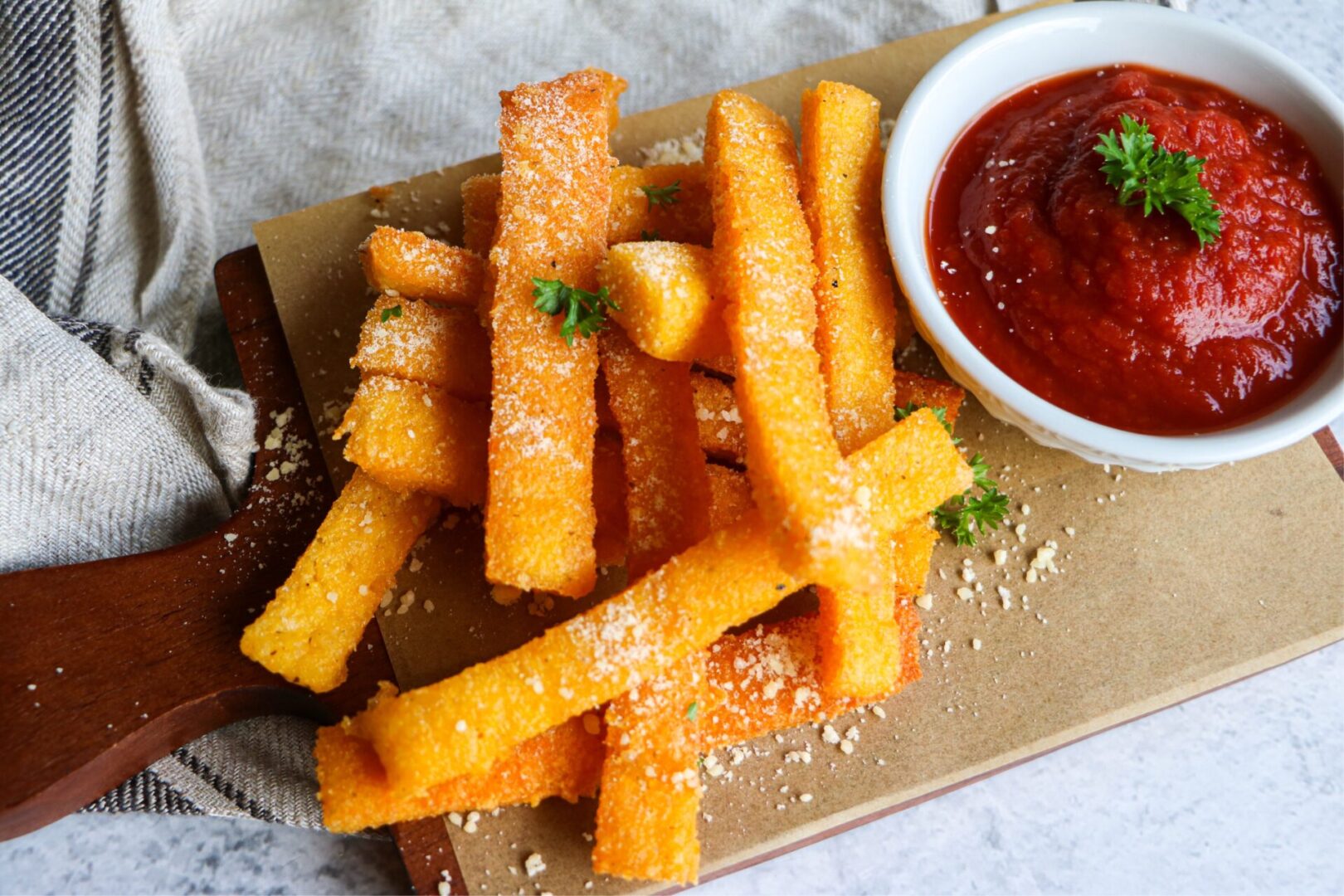 In a medium saucepan, bring the vegetable stock to a boil. While boiling, slowly add the grits. Stir constantly, and cook until the polenta becomes thick and starts to pull away from the sides of the saucepan, about 15-20 minutes.

 

Stir in the cheese, butter, garlic powder, and salt until fully incorporated.

 

On a parchment lined sheet tray, sprayed with non-stick spray, spread the polenta evenly. The polenta should be between ¼ and ½ inch thick. Cover the polenta with plastic wrap, and top with another tray. Press lightly to ensure an even surface.

 

Chill for at least an hour.

 

Preheat frying oil to 375F.

 

Once the polenta has chilled, cut 

it into long fries with a pizza cutter.  

 

Fry the polenta fries in batches until golden brown, about 3-5 minutes

 

Drain on paper towels and sprinkle with salt.

 

Serve with any sauce you like, or on their own.