Prep Time
:
15 minutes
|
Cook Time
:
30 minutes
|
Total Time
:
45 minutes
|
Yield
:
4 servings
Schnitzel is a traditional meal throughout German-speaking Europe.  Pair this easy recipe with almost anything to make a complete meal.  
4 boneless pork chops

 

¼ cup Professor 

Torbert's

 Orange Corn Flour

 

¼ cup cornstarch

 

1 ½ tsp salt

 

2 large eggs

 

¼ cup Professor 

Torbert's

 Orange Corn Meal

 

½ cup breadcrumbs

Vegetable oil 

Lemon slices (optional)

 

Parsley (optional)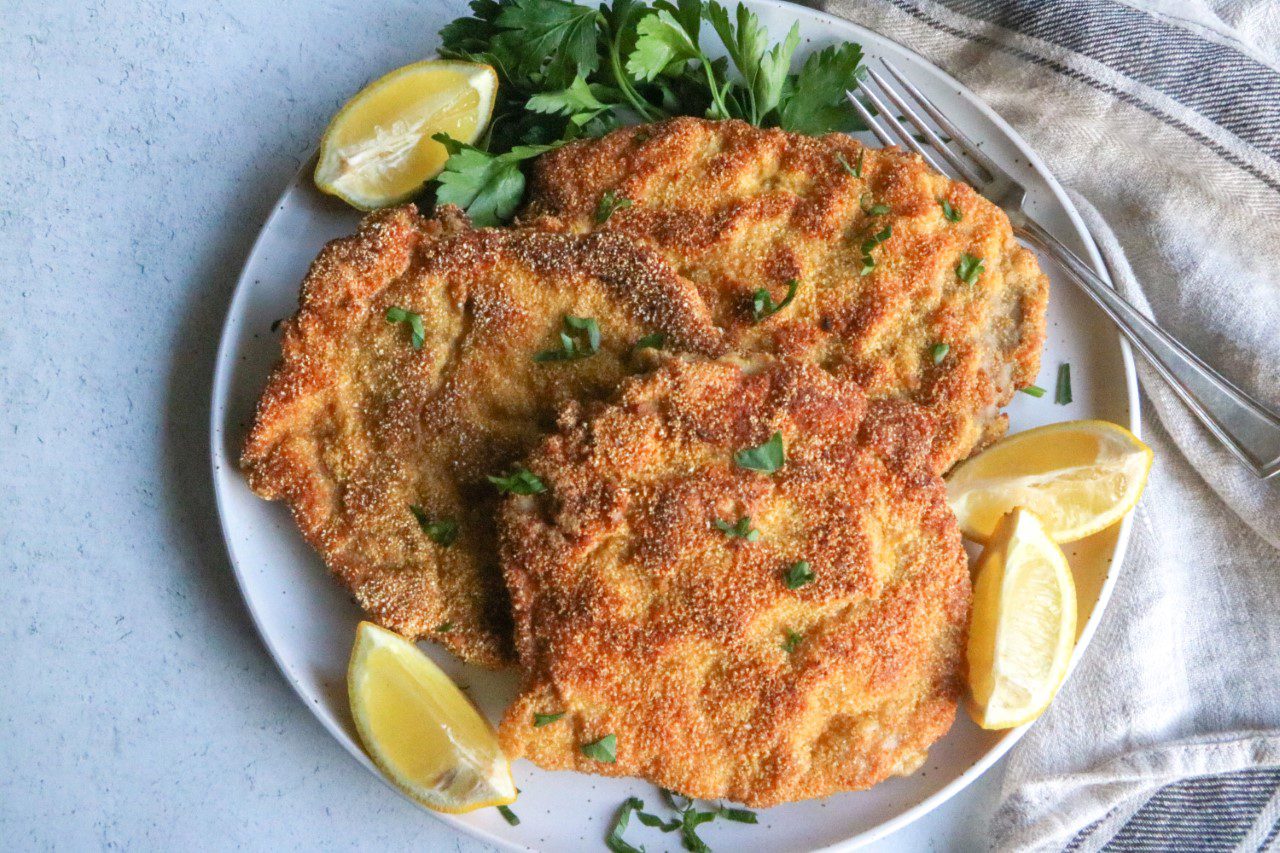 Trim the fat from all of the pork chops. Lay on a cutting board and place a sheet of plastic wrap over them. With a mallet, pound the meat until about ¼ inch thick. The best method is to start in the middle and work toward the edges.

 

Prepare three

 mixtures for breading:

 

Flour Mixture: mix corn flour, cornstarch, and salt in a shallow bowl.

 

Egg Mixture: crack eggs into a shallow bowl and whisk until the whites and yolks are homogenous.

 

Breading Mixture: mix cornmeal and breadcrumbs in a shallow bowl.

 

Heat oil in a non-stick pan on medium to medium-high heat. Make sure the entire bottom of the pan has a layer of oil covering it.

 

While the oil is heating, coat the meat first in the flour mixture, then the egg mixture, and finally the breading mixture. Make sure the meat is fully covered on all sides with each mix. 

 

When the oil is hot, begin frying the schnitzel. Make sure there is sufficient oil during cooking, and add oil if there isn't enough. Fry for 2-4 minutes on each side. The schnitzel is done when the outside has a deep brown color.

 

Serve immediately with lemon and parsley as garnish. 

 
 
Schweizer "Fitness Teller" 
Swiss Schnitzel with Salad 
 To serve your Schnitzel, you can choose to pair it with authentic Swiss salads to get a taste of the alps! In Switzerland, when you order a salad, you don't typically get one big mixed one, you actually get a lot of little separate ones on a plate, with greens in the middle. If you order the salads with Schnitzel, they turn into a "Fitness Salad." With a really easy home-made dressing, you can make just about any salad, and this recipe will show you all of the options you would probably receive if you ordered one in Switzerland. You can pick and choose what salads you want to serve with your schnitzel, or make them all! 
 Swiss Dressing: 
Makes a little over a cup of dressing 
 Ingredients: 
2 tbsp mild mustard

 

4 tbsp white wine vinegar

 

8 tbsp vegetable or sunflower oil

 

5 tb

sp mayonnaise 

 

Salt 

 

Pepper

 

Chives, finely chopped

 
 Steps: 
In a bowl, whisk together mustard, vinegar, oil, and mayonnaise until well combined.

Season to taste with salt, pepper, and chives.

 
 
Salads: 
Serves 4 
 All of the ingredients in these salads are to taste; so, for each salad, you can make it with how much dressing you like and season as you wish. For each recipe, just combine the ingredients in a bowl. 
 Green Salad: 
Mixed greens of your choosing, how

ever much you'd like

 

Swiss Dressing

 

Salt and Pepper

 

Chives, finely chopped

 
 Tomato Salad: 
2 medium tomatoes, diced

 

Swiss dressing

 

Salt

 

Pepper

 

Chives, finely chopped

 
 Cucumber Salad: 
1 cucumber, peeled and diced

 

Swiss Dressing

 

Salt

 

Pepper

 

Dill

 
 Corn Salad: 
1 can of corn, drained

 

Swiss Dressing

 

Salt

 

Pepper

 

Curry powder

 
 Carrot Salad: 
2 carrots, finely shredded

 

Swiss Dressing

 

Salt

 

Pepper

 

Raisins (optional)

 
 Beet Salad: 
1 can of beets, drained and finely diced

 

Swiss Dressing

 

Salt

 

Pepper

 

Chives, finely chopped

 
 Cabbage Salad: 
Cabbage (red or white), chopped

 

Swiss Dressing

 

Salt 

 

Pepper

 
 Construction: 
You can build your salad any way you would like, but for an authentic Swiss "Fitness Salad," start with all of the salads except the green sal

ad. On a large plate, put 2-3 tablespoons of each salad in an approximate circle around the edge of the plate, leaving room in the center.

 

In the center, fill the space with a generous amount of your green salad, making sure not to cover the rest of the vegetable salads. 

 

Gently place your schnitzel over the green salad, and garnish with lemon and parsley.