Nigerian Food Entrepreneur Uses Orange Corn
NutraMaize co-founders Torbert Rocheford and Evan Rocheford recently had the opportunity to meet with and mentor fellows from the 2022 cohort of the Mandela Washington Fellowship for Young African Leaders. Among those participating was Immaculate Nwajagu, a food safety advocate and young entrepreneur from Nigeria whose primary focus is to create access to food safety and security in her home country. Read on to learn more about the Mandela Washington Fellowship Program, Immaculate and her food safety initiative, and how she's incorporated Orange Corn into her new product line in Nigeria.
This summer, Purdue University welcomed individuals from the 2022 cohort of the Mandela Washington Fellowship for Young African Leaders. The Fellowship is the flagship program of the U.S. State Department's Young African Leaders Initiative and has accepted nearly 5,100 young leaders from Sub-Saharan Africa to participate since its inception. Individuals between the ages 25 and 35 who are seen as accomplished leaders and have established records of promoting innovations and making a positive impact in their communities are encouraged to apply and participate in the program each year. This year, approximately 700 fellows were hosted across the country, drawn from an applicant pool of over 30,000 (which makes the program twice as selective as getting into Harvard!). Purdue was selected to participate as one of the Leadership in Business Institutes along with nine other universities across the country. The Institute was a six-week executive-style program tailored to Fellows aspiring to become leaders in the private sector or start their own businesses in Africa. The NutraMaize Team was pleased to be involved in this year's program in partnership with Purdue and be given the opportunity to work with and mentor these inspiring young leaders.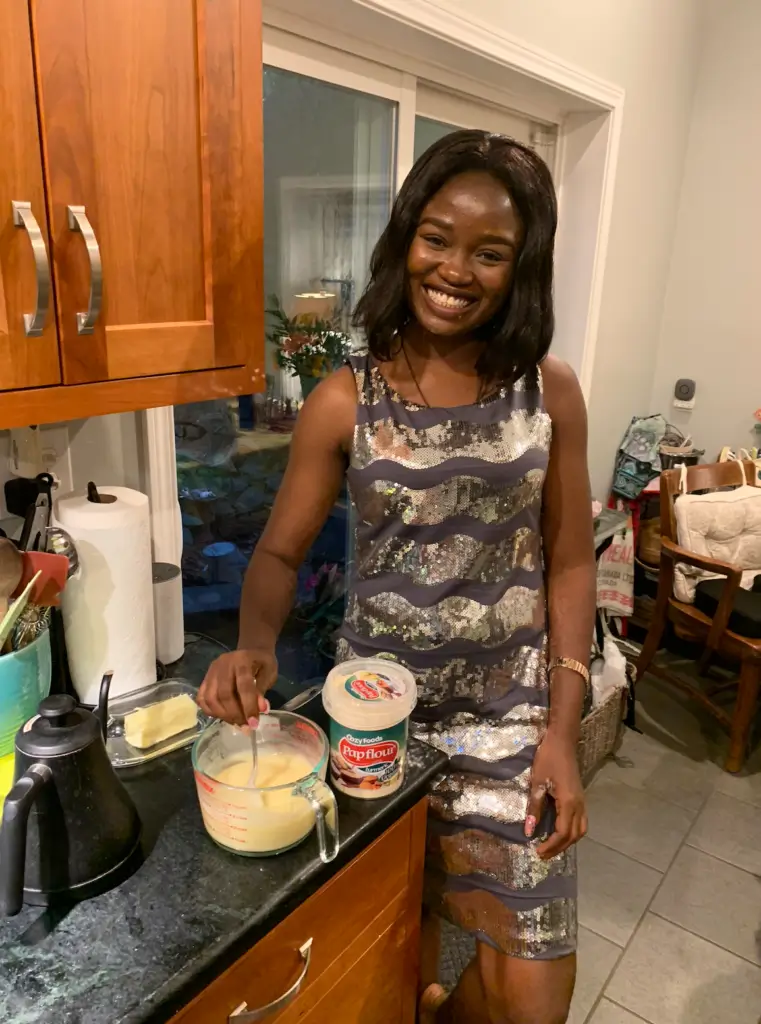 During the fellows' time at Purdue, NutraMaize co-founders, Torbert Rocheford and Evan Rocheford had a chance to meet Mandela Fellow Immaculate Nwajagu, MNIFST, MNSN, MASN. Immaculate serves as an independent food safety advocate and food and health promoter to food industries, commercial kitchens, and households. Immaculate has more than six years of experience working in food safety and security, product development and nutrition and has earned a Master of Science in Nutrition from Ahmadu Bello University Zaria, Nigeria and a Bachelor of Science in Food Science and Technology from the Enugu State University of Science and Technology.
After losing her twin brother to food poisoning and due to the ongoing need to address the hunger crisis in her home country Nigeria, Immaculate chose to act and founded Food Maestro, a start-up that focuses on creating access to sustainable and nutritious food sources where she currently serves as the managing principal. "The mission of Food Maestro is to ensure food security and strengthen the food system in Nigeria," Immaculate explains. "Our current activities focus on providing services in food safety and quality management systems, food services management, food product development, potable water treatment and nutrition education to individuals, households, institutions and food establishments." Food Maestro also recently launched a new food brand, Cozy Foods which aims to provide comfort in nutrition. The current Cozy Food product line includes pap flour, soy powder, beans flour, and Bambara nut flour.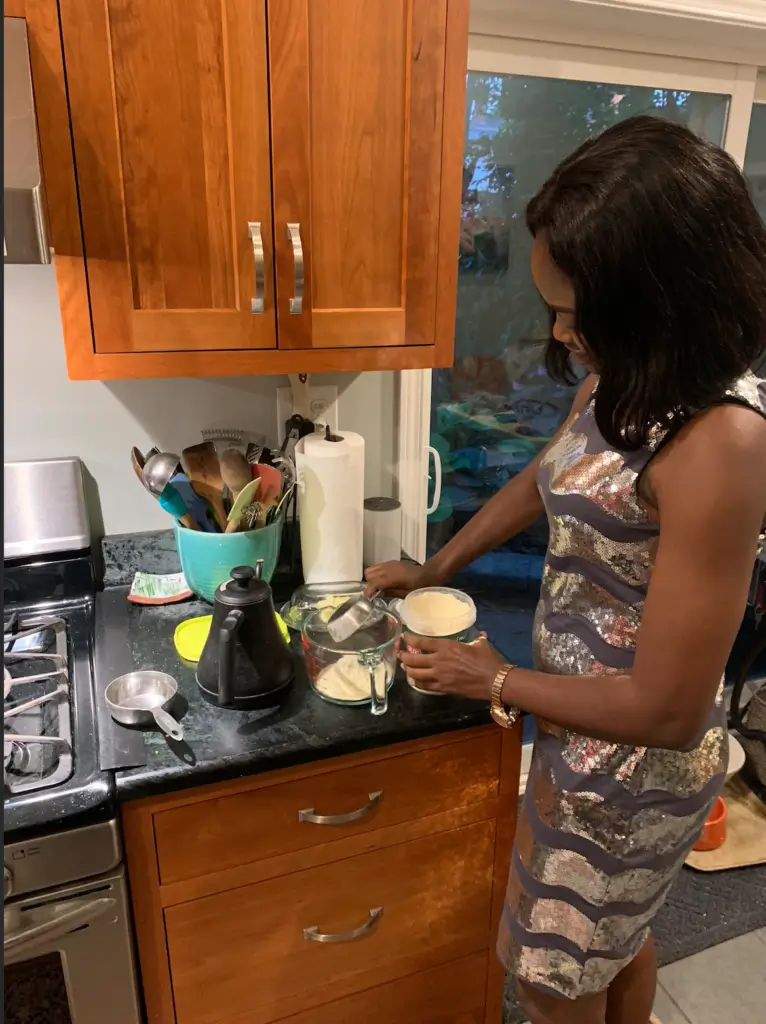 Since the organization's founding in 2003, Professor Torbert has partnered with HarvestPlus, the global leader improving nutrition and public health through nutritionally enhanced food crops, to bring Orange Corn to Sub-Saharan Africa. Orange Corn was originally developed as part of an effort to help alleviate vitamin A deficiencies in Sub-Saharan Africa where it is currently grown in numerous countries, including Nigeria. Immaculate is pleased to share that her Cozy Foods product line currently produces pap flour made with Orange Corn sourced in her local market. Pap is a staple in African households and provides a nutritious instant breakfast that resembles a pudding. In addition to pap, Immaculate is happy to report that Orange Corn can be found in several other meals and dishes in Nigeria including: moi-moi (a corn-based porridge), various cornmeal recipes, corn cakes, and corn snacks.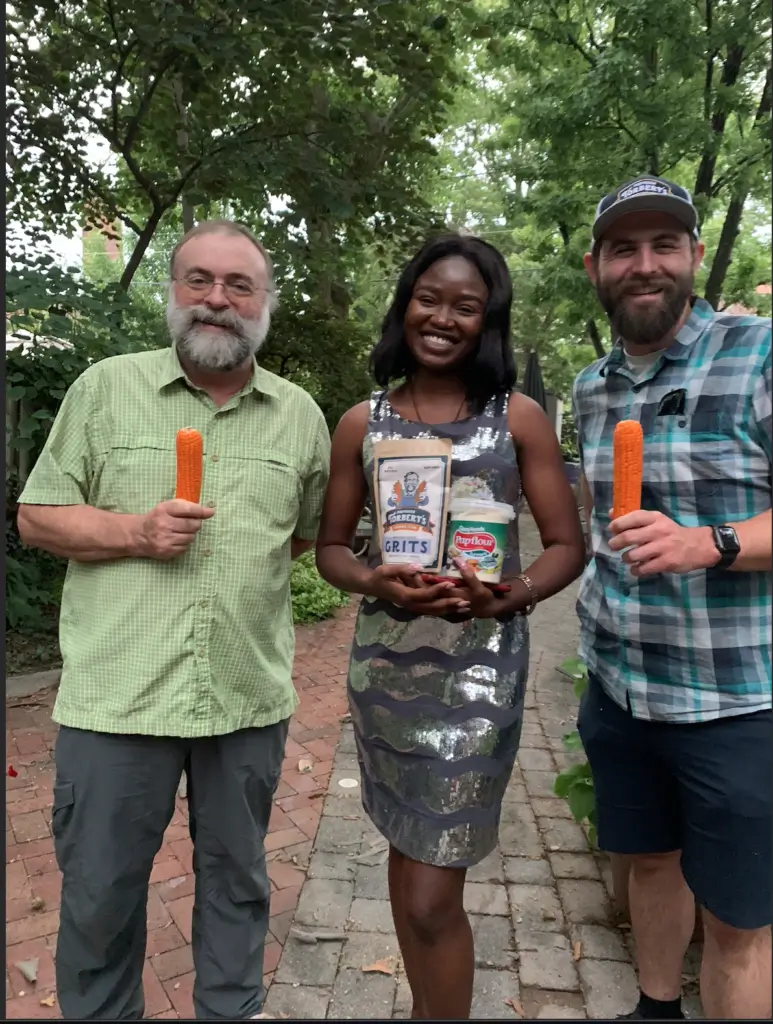 Immaculate believes her time in the Mandela Washington Fellowship has helped her to fine-tune her entrepreneurial skills and connect with others that will aid her in bringing her business to the international marketplace. During her time at Purdue she was able to visit research institutes as well as food and agribusinesses and learn more on their business models. "One of the best gifts I have received as part of the Fellowship is the opportunity to connect and network with both Americans and other Fellows who are willing to collaborate and partner with me. Through the program, I've been able to experience first-hand leadership in an American business context and will be able to bring these experiences and skills I have garnered back with me to Food Maestro to drive business in the global market," says Immaculate.
Professor Torbert and Evan truly enjoyed their time interacting with Immaculate and the other Mandela Fellows this summer and hope to be involved in future projects with Purdue University and the Mandela Washington Fellowship. Visit the Food Maestro website for more on Immaculate's work. You can also learn more on the Mandela Washington Fellowship for Young African Leaders on the program's website.

For more on the Mandela Washington Fellows' time at Purdue visit the Purdue Agriculture website for more details and photos from their time in the program.