Savory or Sweet? You Decide!  
Fresh Ideas to Customize Your Cornbread
Simple, reliable, and delicious, cornbread is always there for you in a pinch. This addictive bread is a jack of all trades – serve it as a side to your chili, a quick breakfast before heading out the door, or an afternoon snack that is sure to please.
Professor Torbert's Classic Style Cornbread is a simple, fuss-free recipe that only requires a few pantry ingredients and bakes in 20 minutes. While this recipe is delicious on its own, it also serves as the perfect base that can be customized if you're craving something more elaborate. Whether you're looking for a savory side to pair with chilis and stews or a sweeter version to serve as a treat or dessert, we have ideas that will please every palate. Read on for some inspiration on ways to amp up your cornbread game!
Sweet
When some think of cornbread – in particular those in the Northern United States –a sweet quick bread may come to mind. Northern style cornbread typically has a more cake-like texture and is sweeter than Southern styles. (If you haven't already, check out our Culture of Cornbread post that delves into this iconic bread's origins and variations depending on where you're from!) As such, many cornbread recipes (including Professor Torbert's) already include sugar as a main ingredient. However, sometimes you may be looking to create a more dessert-like cornbread whether for a special occasion or just an after-dinner treat. If you want to intensify the sweetness of your recipe, additions such as honey, agave, maple syrup or cane sugar can help increase the sweet factor. Adding brown sugar is another possibility that can also add a hint of molasses flavor. Mix-ins such as fruits and nuts can also add more texture and bring added sweet flavors to your recipe. Consider adding any of these mix-ins to your batter:
Apples
Peaches
Berries
Pecans
Walnuts
Frozen corn
Some of our favorite cornbread and muffin recipes that are on the sweeter side include: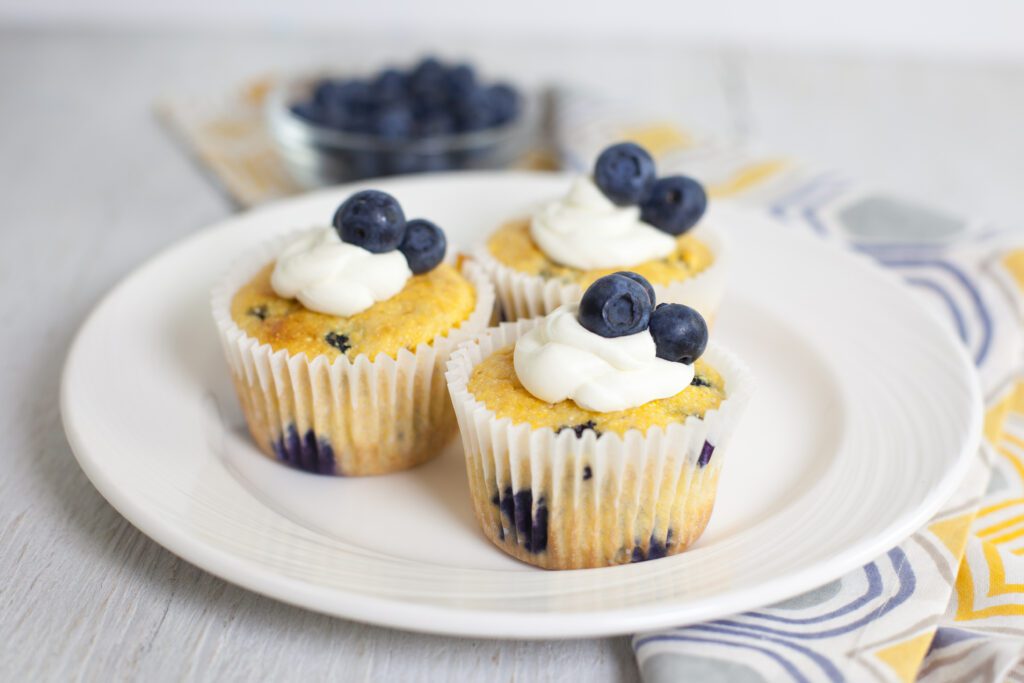 Our blueberry cornmeal cupcakes incorporate a subtle sweetness of the blueberries and citrusy flavor of lemon cream cheese frosting that make these treats a true crowd pleaser. Serve them for dessert at your next get together.

For a more festive feel, our recipe for cranberry orange muffins are a sweeter variation of the traditional corn muffin that incorporate the flavors of the holidays and make the perfect treat for breakfast or lunch any time of the year.
Peanut butter muffins are another choice that are not only a sweeter corn muffin alternative, but they also pack 10 grams of protein per serving. Chopped peanuts and steel cut oats also give them amazing texture and flavor that make them the perfect afternoon school snack or breakfast to jumpstart your day.
Savory
While many enjoy cornbread as a sweet snack or dessert, others may be looking for a savory alternative to serve as a side dish or even just on its own as a snack. Many variations of the recipe in fact (including many from the Southern United States) have little to no sugar. If you're looking to create a savory cornbread or just tone down some of the sweetness, there are a variety of mix-ins and combinations that are equally as delicious as their sweet counterparts. Some of these add-in ideas include:
Herbs such as rosemary, sage, and basil
Garlic
Onions or Shallots
Meat such as diced sausage, ham or bacon
Cheese such as cheddar, asiago, or parmesan
Cayenne pepper, chili paste, jarred jalapeños, or salsa to add a little heat
Our recipe library includes several savory combinations. We particularly like: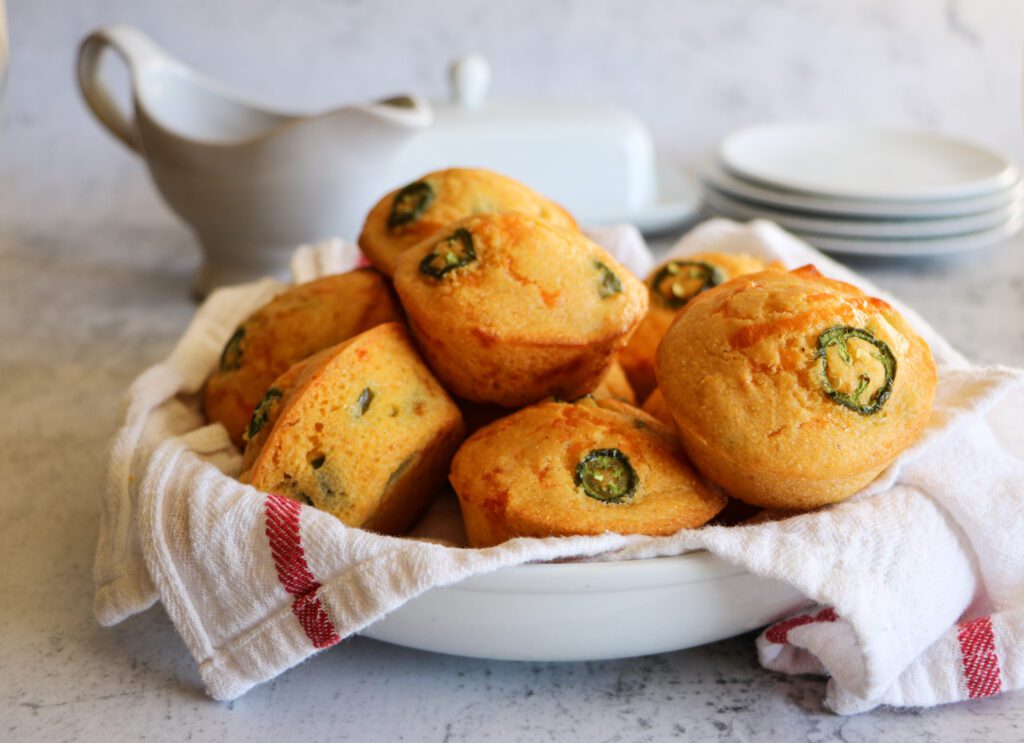 Our bacon and onion muffins are also a delicious, savory variation that will become a household favorite in no time.
Finally, don't forget our cheddar green chili corn muffins. The perfect companion to a bowl of soup or chili, this variation amps up the cheesiness and adds the perfect amount of spice that pairs with just about anything.
Toppings
Can't decide between savory and sweet? Whip up a batch of cornbread using your favorite recipe and let your guests decide for themselves! Cornbread toppings are a great way to let everyone customize their own piece whether they're looking for savory, sweet, or somewhere in between.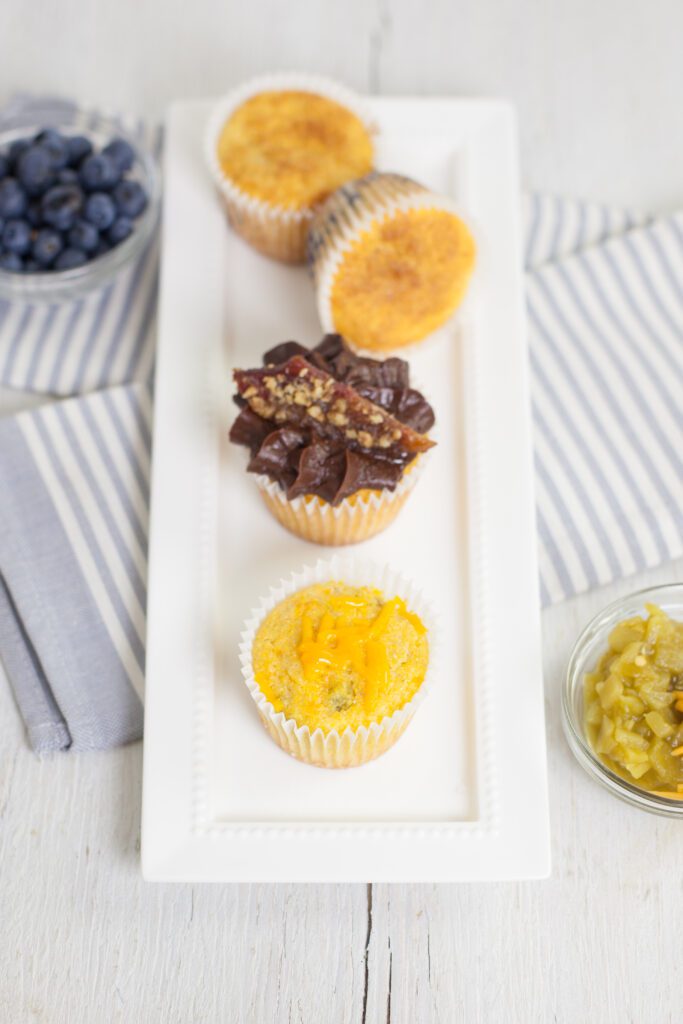 Sweet toppings that work great on cornbread include:
Honey or maple syrup
Fruit jam or apple butter
Lemon frosting
If you want to enhance the savory elements of the bread, consider topping with:
Caramelized onions
Fried bacon
Butter with herbs
Sun-dried tomatoes with cheddar cheese
Mozzarella and basil
Pepperoni and gouda

To get the creative juices flowing, set up a toppings bar and encourage your guests to try out whatever sounds good to them! You can't go wrong!
Whether you prefer sweet or savory cornbread, the bottom line is that with a little imagination and a few extra ingredients you can make your next batch into whatever you want it to be. Professor Torbert's Orange Cornmeal is the perfect, versatile ingredient that can be added to both sweet and savory cornbread recipes that adds a deeper color and richer flavor. Grab a bag today and try out something new for your next holiday celebration, tailgating party, or even just to add a little excitement to your weeknight dinner!
What are your favorite cornbread add-ins? We'd love to see it! Tag @professor_torberts on Instagram or email caroline@nutramaize.com to be featured in an upcoming newsletter or on social media.